One Year course from May 2015 to June 2016
Samuel Dusatko (UK)
I came to china to learn martial arts and to change my life style. It was always a dream for me to learn Chinese kung fu and I wanted to learn discipline and different ways of life.
I spent One year in Kunyu mountain shaolin martial arts academy and gained a lot of experience in the kung fu styles Wing Chun and Baji fist. But the most I gained and learned is about myself and about ways of life. That you have to work hard to make a difference for yourself and for the people you care about.
The most influence I had from my Master. He is really the most kind person and good teacher I have met so far. He is patient and passionate about his teaching. And he is dedicated to teach martial arts for all his life. To find someone like this and to be a student is and was a great honor.
We trained 5 days a week and every day between 4.5 and 6 hours. It was a good routine to get a foundament of basics and a great way to gain fitness.
The surroundings of the academy is a small village with a lot of mountains nearby. The people are very friendly and you get a welcoming atmosphere.
Email: evileko1993@web.de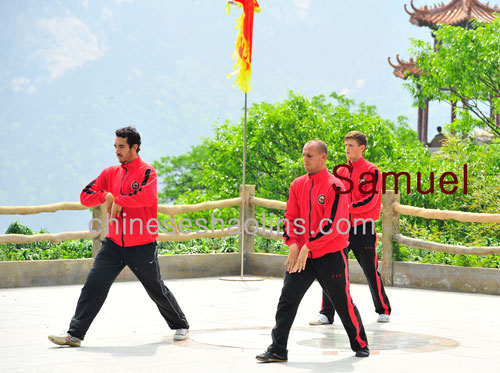 Samuel performed Wing chun with other students in Kunyu Mountain.