Six months from March to September 2016
Lucy Cokayne (UK)
Someone once told me to be the change you want to see. After recovering from severe depression and other health issues I decided to work on my personal development both physically and mentally. I knew I wanted to do martial arts, not only would it assist with weight loss but confidence co-ordination, flexibility and overall well-being and this was important to me. I believe I have received this and much more from my time here. I chose China because it is well known for its martial arts and I wanted an authentic experience I could remember for the rest of my life.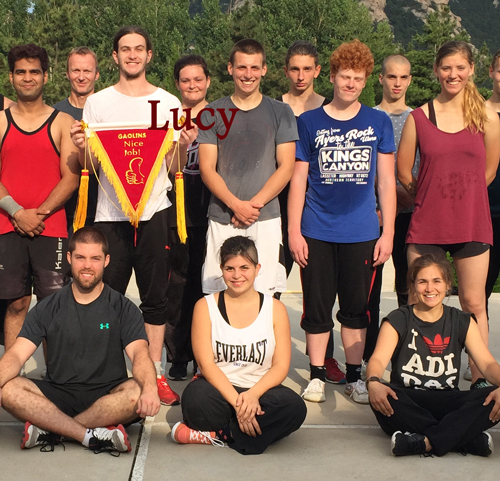 Shaolin Groups
The training is varied and offers structure to your day. I studied Shaolin under Master Gao who I found to be a highly motivated and innovative Master. He is always thinking of new ways to train and inspire his students. I have noted through the training that my memory, co-ordination and balance have improved. The translators are very friendly and helpful and easy to get on with.
I feel I have gained so much from my time here from Shaolin and Sanda. My greatest gain has been the friends that I have made on this journey and the experiences that we have shared. Most of all I feel lucky to have been part of an amazing group of people who have made a positive impact on my time here. It is with their help and support during the training that has made this such an enjoyable experience.
The surroundings are beautiful, there is a lake about a five minute walk from the school which is lovely to swim in after a hard days training, especially after power training. The mountains offer beautiful views and peaceful places for meditation.
Overall I have enjoyed my time here and would definitely return again if time/resources permit.

Thank you all for a great experience.
Email : lucylocketxxx@hotmail.com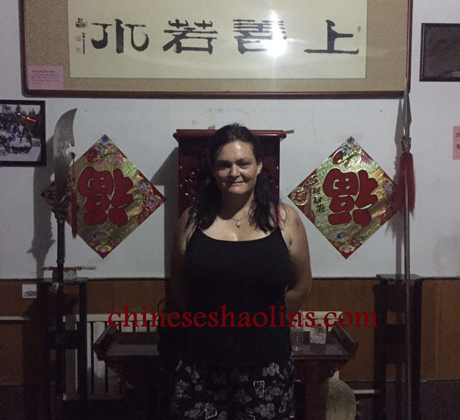 Lucy trained for half year in Kunyu academy China.