Our students train with professional Chinese martial art masters here. Shaolin Kung Fu masters are warrior Shaolin monks from the original Chinese Shaolin temple.
For other Kung Fu styles, such as Wing Chun , Tai Chi, Chi Kung, Wu dang, Xingyi, Bagua, Baji, Mantis Boxing, and Sanda (Chinese kickboxing), are taught by highly skilled, top masters with many years of teaching experience.
Our shaolin masters' names are reserved in a traditional shaolin temple list. In order to maintain high kung fu training standards and performance, our Shaolin kung fu academy reviews the masters' and translators' professional skills annually.
The ranking system at Shaolin Temple has 9 levels. The ninth level is the highest someone can achieve in Shaolin Gong Fu. The level can only be awarded after a lifetime of commitment to it. However, if you are determined enough and willing to study for 3 years, you can attain a middle rank of either level three or four.
---
Masters (Shifu) listed below are traditional Kung Fu masters skilled in the ancient art of Chinese martial arts and historical theory and philosophy: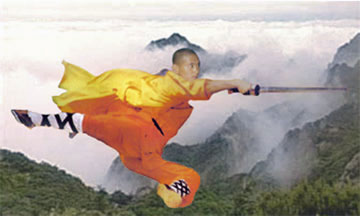 Headmaster Shi Xing Qing
▪️ 32nd generation Shaolin Warrior Monk

▪️12th-generation descendant of Chinese Chen Style Tai Chi Chuan
▪️ 24th-generation descendant of Chinese Chi Kung - Jin Gang Li Gong
▪️ Chinese Martial Arts 7th Level- Awarded by the China Martial Arts Association
▪️ Famous Master in Shaolin Martial Arts Honorary title
▪️Approximately 23 years of Kung Fu teaching experience in Various Kung Fu Disciplines
▪️Committed to the world promotion of Chinese traditional Kung Fu culture .
Brief Introduction: He studied at the original Shaolin Temple from an early age and studied Kung Fu there for a long time, becoming highly skilled in traditional Shaolin Kung Fu, various weapons, and Shaolin sparring techniques. Besides Shaolin Kung Fu, the headmaster also specialises in Tai Chi (Chen and Yang Style), Chi Kung, and other Internal Kung Fu, Xing Yi and Ba Gua Palm as well as Mantis Boxing - Our location Yantai city is the birthplace of Mantis boxing . He has been doing extensive research on Chen style Tai Chi for the past decades.
In 1997, Master Xing Qing was sent to help the Chinese government with the restoration of the Southern Shaolin Monastery. After that, Qing traveled all over the world in order to share knowledge with various different styles masters globally and teach Chinese Kung Fu. In the 1st China Shaolin Kung Fu competition, he took first place in Shaolin broadsword and sword forms. In the National Martial Arts Tournament of 1995 year, he won the championship in the 70kg open combat categories that competitors allowed to fight with the style of their choice. In 1996, Qing won the championship in the 75kg open fighting categories and took first place in Shaolin Leopard form in a Chinese martial arts competition held by Liaoning province. He also took part in many other competitions and got great records..In April 2012,he was awarded the 24th-generation descendant of Chinese most famous Bing Jia Secret Skills Senior Internal kung fu by Jin Gang Li Gong federation.In Oct 2016,he achieved 12th-generation descendant of Chinese Chen Style Tai Chi Chuan.
Headmaster is awarded " Famous Master in Shaolin Martial Arts "by Henan Dengfeng Shaolin Federation in 2017 Year. Click here for his Kung Fu Certificates and Degree
Besides these achievements, he is Administrative Vice President of the Kunyu Mountain Cultural Research Federation and Vice Managing Deputy President of the Yantai City Martial Arts Association and Deputy of the National People's Congress of Yantai
---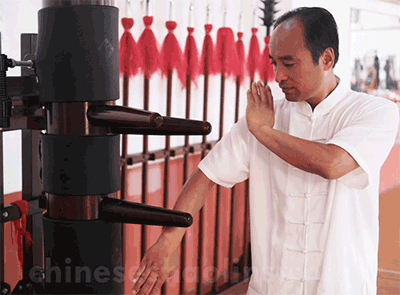 Master Guo: Wing chun, Tai Chi, Wudang, Baji, Chi kung master, Ranked at level 8. Coming from a traditional Chinese kung fu family. He has been teaching Chinese martial arts for 28 years and practicing for over 33 years. With strong morals and a friendly personality, he's excellent at Wing chun, Baji, Tai Chi, Wudang, Shaolin internal strength finger, war sword, black dragon, big pole & nunchaku as well as Karate. He also has Chin'na unique skills. He professionalize in the release of the inner strength that is essential in creating a skillful defense and attack. Guo is the successor of the famous traditional internal subject who has managed to successfully break the flagstone half placed on a block of bean curd, which has been documented extensively by the media. Due to a deep understanding in the activity, he created his own Chi Kung styles, which has successfully been listed in National Martial Arts Committee. He is a long participant of the domestic and global martial arts competitions, and Guo has gained a huge reputation and won many prizes. He won second place in the 1993 Chi Kung and martial arts competition by leg power. In 1994, he attended the oriental health exposition opening ceremony and was awarded a Special Contribution Award. At the same time, he was also invited to Japan for academic exchanges and to teach Kung Fu.
In 1995, he won first place in the Exchange performance Sino-Japan Chi Kung Plus Martial Arts Congress, which were held in Dalian. He was later sent by the Chinese Martial Arts Managing Center in 1997 to visit Algeria and provide a kung fu performance with a delegation Chinese martial arts performance group. In 2005, he reached the height of Kung Fu competitions when he scored first in the inner strength national competitions. In April 2012, Master Guo are awarded 24th-generation descendant of Chinese most famous Bing Jia Secret Skills Senior Internal kung fu by Jin Gang Li Gong association.He is vice secretary-general of Kunyu mountain cultural research association.