Shaolin Kung Fu Training and Martial Arts Training and Information
We offer Kung Fu training and instructions to beginners and advanced students with previous martial arts experience who want to gain more skills through Shaolin Kung Fu training as well as effective self-defense and the actual combat martial arts training included.Skills in Action Movies training is offered for the students(actors) in need. There are courses of different lengths that range from one week to five years. Our Shaolin training students' ages range from 6 to 70-years-old because Chinese Kung Fu is suitable for all ages to learn. The students may choose the length according to their personal schedule and unique passion for Chinese martial arts and Shaolin training.
a. We welcome students who are mentally and physically healthy, regardless of your gender, age, religion, country. The Kung Fu training plan is also very flexible according students' different needs. (Note: Please don't worry about previous kung fu experience because many students are beginners before they arrive. We only need your dedication and a positive attitude. The masters here train students according to their different kung fu level and physical condition.
b:Students have the option to choose the kung fu styles they are interested in at the beginning to focus on,such as,traditional Shaolin ,Chinese kickboxing,(Sanda),Wingchun,BaJi,Tai Chi,Chi kung, Xingyi, Bagua or Praying Mantis,etc.For example,for shaolin Beginners are introduced to learn Shaolin, including the basics of Shaolin,its application, traditional Chi Kung, two short Shaolin chuan forms, one weapon routine, combat skills, and an additional Tai Chi Chuan lessons to start with. Then, after some timeexperiencing Shaolin training, you can perform intermediate or advanced kung fu.In addition,the students can change their classes after they try a few to decide if the Shaolin kung fu training is what they want to master in the coming days and then take an extensive training on the styles chosen.
c : At the same time if students with previous martial arts training are quicker to learn or you are an already established kung fu expert, you can get more advanced martial arts training and master the more complex moves in Martial arts, skills in combating ,and internal ones with higher morality. We welcome advanced students wishing to study by challenging the masters.
d: There is extended Shaolin training for the martial arts for those who have stayed for more than five years and want to be masters in this art. Masters here will decide on this extension and they also will advise based on your skills, how trusted you have become, dedication and the concentration shown.
f: Since we opened in 2004, we have had many short and long-term students to study here. They have chosen to learn for one year, two years, or longer in China. From their time dedicated study here, they received a Master certificate and degree to help them open a Shaolin kung fu training school or martial arts club in their local hometown.It's also common for short-term students to extend their kung fu training for one year or longer.
---
The following is a rough Kung Fu training plan for Shaolin Kung Fu:
The other Chinese martial arts training plans, such as Wing Chun ,Tai chi,Mantis,Bagua,Xingyi, etc. are similar to shaolin's. Our Chinese Shaolin kung fu education includes all kinds of fist, form, application weapon, and combat training. Chigong, Yi jin jing and Ba duan Jin are also included in the education along with Chinese Wing chun, Tai chi, Chi kung and Bagua palm and mantis fist combat. Every student will study kung fu at a different rate depending on their unique level of dedication and talent.
Short term training:During One week to one month term: you will learn Shaolin kung fu history and theory, basic punching and kicking, Chi kung (all include healing Chi kung) and Tai Chi, one or two Shaolin fist form (or one basic weapon such as the staff or sword, depending on skill level), Chinese kick boxing with two-person sparring, basic Mandarin, Taoism, Calligraphy, acupuncture and massage. All students can choose to study hard Chi kung, which involves conditioning areas of your body for combat such as your hands. For one to three-month learning, student can break a house brick in two with their bare hands by cultivating Chi kung.
(During the two to six months term,) Shaolin kung fu history and theory,two to six kung fu fist forms, punching and kicking, action application, handling of one to two weapons, Chi kung , Tai Chi, Xing yi, Chinese kick boxing with two-person sparring, basic Mandarin, Taoism, Calligraphy, acupuncture and massage.
Medium term training: (During the 6-month term,) Shaolin kung fu history and theory,about five to six forms of martial arts, handling of two to three weapons, action application, martial arts theory, Chigong , Taichi, Chinese kick boxing, Yi Jin Jing, Ba Duan Jin, punches and kicks, Mandarin, Taoism, Calligraphy, acupuncture and massage.More advanced levels of hard Chi kung can be reached including breaking wooden staffs over your legs and arms without any injury and the breaking of house bricks via knee or elbow.
Long term training:(During Seven-month to One year term,) you will study philosophy of shaolin martial arts, seven to 12 advanced forms of martial arts, handling of three to five weapons , action application, martial arts theory, Chigong, Taichi, Chinese kick boxing, Yi Jin Jing, Ba Duan Jin, punches and kicks, Mandarin, Taoism, Calligraphy, acupuncture and massage.Advanced levels of Chi kung including healing illness and injury via Chi and advanced hard Chi kung :breaking an iron bar over head or hammering a nail into wood via palm of your hand. Students who want to focus on internal martial arts and Chi kung can study Taiji, Xingyi and Bagua palm as well.
During the one to two-year Shaolin Kung Fu term, you will study the philosophy of shaolin martialarts, and more than twenty advanced forms of martial arts, including the animal styles: tiger, leopard, monkey, snake, crane, mantis, eagle, and drunken boxing. Qin na, advanced weapon forms such as double broadsword, monkey staff, double hooks, drunken sword, bull whip, and double chain whip, action application, Chigong, Taichi, Chinese kick boxing, Yi Jin Jing, Ba Duan Jin, punches and kicks, Mandarin, Taoism, Calligraphy, acupuncture, and massage.
*The kung Fu styles listed on our website all have a corresponding class here (Shaolin kung fu, Wing chun, wudang, Baji, Taichi fist, Mantis and Bagua palm, xingyi fist, Chigong, kickboxing and more). You can also choose any class form for optional cultural classes (Mandarin, acupuncture and massage, calligraphy) for free in the evening.
*Except the weekend,we have several holidays for Christmas, New Year and Chinese Lunar New Year. The student can stay in academy while the cook staff work or train if you want ,and there are masters and translators on duty. Students can also travel or go back home with their family. (Students can ask for two weeks holiday to go back home if they wish)
● Students can purchase different sort of traditional Chinese martial arts books, monk clothes, and martial equipment with the help of us.
*Traditional Kung Fu training in our academy includes many different fist and weapon forms, plus their applications and contact sparring, plus the Chi kung. The academy teaches other internal styles that include Taiji (Tai Chi) and Wudang, Wing Chun and Baji, Bagua and Xingyi, and the mantis style alongside traditional Shaolin Kung Fu. Each of the styles that have been mentioned above has its own classes, and students are able to choose and learn more than one style. The study includes all male and female student who are actually 16 years and older. Younger students less than 16 years old are accepted if they are accompanied with their parent or older relatives – particularly a brother or a sister. Ensuring there is good quality teaching, every master is supposed to manage seven students in the winter and less than fifteen students around in the summer.This will ensure high quality Kung Fu training on a personal level and assure a close family atmosphere in the group.
*Besides offering the best Shaolin Kung Fu training in China, we also have good accommodations with different types of rooms - twin rooms, family-group rooms, etc. Our newest building, built in 2016, contains single rooms with a bathroom attached. Students also receive high quality meals with nutritional requirements designed to satisfy the individual needs of each student.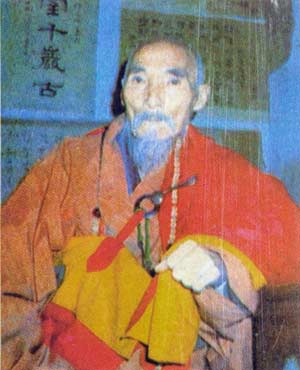 Precursor of Shaolin Honorary Abbot, Fang Zhuang
---
Some of the regulations in the Shaolin Kung Fu training in China Kunyu academy:
We do hope that you can respect the local customs and school staffs as well as other student to create a harmonious friendly atmosphere.Do not break the Chinese law.Besides that,there are strict rules in academy to make students to attain more disciplines and focus on training to improve themselves.
1. Learners must respect their masters, translators. You should co-exist in harmony and avoid bad atmosphere within the academy.
2. Help fellow learners who have difficulties in the training instead of mocking others.
3. Respect each others' beliefs and faith.
4. Drugs, tobacco, cigarettes, alcohol and gambling are prohibited. If you are caught with drugs, you will be dismissed right away.
5.Noise should be kept down. No dirty word can be allowed to be spoken in the academy.
6.Keep yourself and your living quarters clean and tidy.
7.Let your master know your destination and get his permission to leave if you want to go outside for the night.
8.In order to create a good training atmosphere, students cannot take any female outside to the academy except for his family for visiting.
All students in the academy need to obey the rules of the Shaolin kung fu academy. Highlighting the worth of respect is an important part of the school. We are dedicated to making harmonious learning and living environment for both learners and masters.
---
Daily Schedule: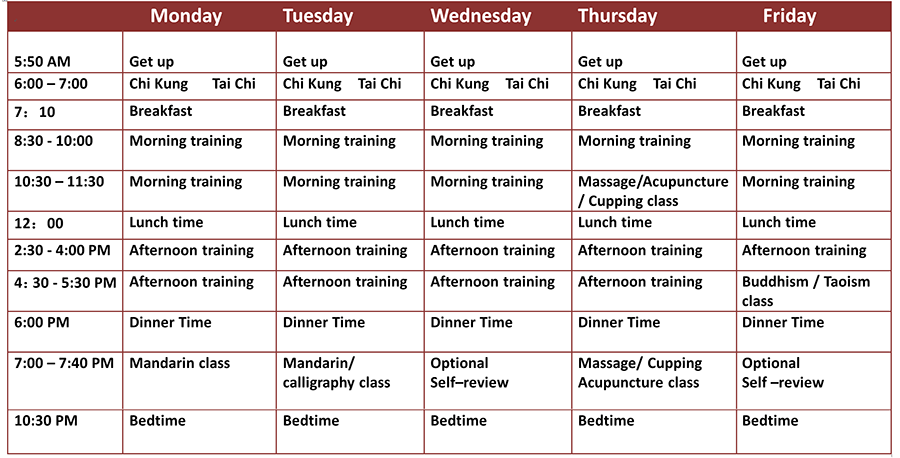 PS. Optional cultural classes may be adjusted according to students' interest on it.
The training schedule may vary a bit depending on the season, weather, etc.
* In formal martial arts early morning training. It starts as early as six o'clock all week long from Monday to Friday. But it is advisable that you are able to wake up earlier in the morning so that you can get fresh air breathing along the road on the mountain to walk or run.
* During the week from Monday to Friday, it is better for students to go to sleep before ten at night so as they can recover energy to study the following day.
*The working hours for the school staff are between six o'clock in the morning and 8:00 PM during weekdays from Monday to Friday. Therefore, it is expected for students to respect the hours as the staff working hours are clearly defined. During the weekends, there are masters and translators on duty. Questions about Chinese martial arts can be asked at anytime in normal class. There is free time for everyone other than the kitchen staff on Sundays.
---
  School Tuition and fees:
One-time non-refundable 100 USD application Fee (paid before arrival) to book your place in our academy and pick up at Yantai Train station. (not included drop off to station).
* Traning Fee on Monthly basis -paid after arrival $370.
* Room and meals on Monthly basis - includes meals, lodging, hot showers, washing machine use,training equipment:mats, pads, gloves & body protection. - Paid after arrival: $320. To study longer with paying in one go, the tuition will be $20 less each month as it goes on.
* We offer car, driver, and translator as a pick-up service from Yantai city Fast Train station to academy.
* A one-time Academy Administration Fee is paid after arrival. For student registering for one -month training, the administration fee is $200 and for students learning for two months or longer, it is $350. Administration fees are non-refundable(when you return next time,no need to pay admin fee again)
* Students who study for one year or longer will get a discount. Payment for a year is 5690 USD which covers meals, room,training, and administration fee. Total cost, if paid annually (not including the online application fee 100 USD) is:
$5690 USD for the first year
$5350 for the second year
$5080 for the third year
$4780 for the fourth year
$4380 for the fifth year
* Student can try several days after arrival,and then decide how long to stay and the payment way.
* On arrival, there is Fee & Refunding rules paper. You will look first to understand fully and then choose the paying way suitable for individuals and sign. If you are not sure how long to train, we suggest you can pay the fees on a daily (50 USD per day) or monthly basis without the best discount. If you have to leave earlier, we will refund only the monthly meal fee because we have paid tax. You can also apply to keep the rest remaining length valid instead of refund (only apply to whole month), please return within one year of departure, otherwise, your place will be cancelled automatically. Except for the fee mentioned on the website, there is no other hidden fee.
*Refunds are not given to students' kung fu training for a month or less.