Preparation for Kung Fu and Martial Arts Training at our Academy
The instructions below are very useful for preparing for your training here in China, not only for beginners, but also for advanced students. It includes how to apply for a visa, how to prepare your body, how to travel here, flight information, the climate here, etc.

Students are advised to fill out the application form to book a place as instructed on the website at least two months before coming to the Shaolin kung fu academy. Once the application is received, we will make preparations (send the normal invitation letter to you to apply for a visa,if you need original one,we can post for you,and you'll cover the postal fee) for your arrival.
For Visa: You can apply for a short term L Type Visa or X2 type if you are coming from outside China. We will also help you extend the visa in our local foreign office easily after your arrival if you intend to stay longer. This depends on how long you take to study after arrival. We also help students change their visas to long-term study visas.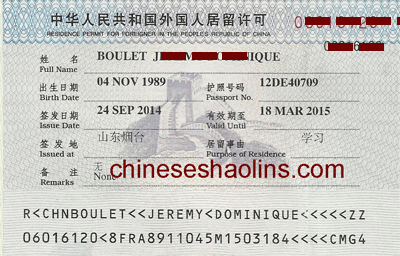 This is the visa we can issue for long term student.(Residence permit for foreigners in China.)
That is Jw202 form for X type Long term student visa that can make student able to stay in China up to five years.
Click here to see Chinese embassy list all over the world.
* In case you have any queries regarding the application of the L type tourist visa or F Type or X2 Visa, it's good to let us know beforehand so we send it in due time. You can also email us directly for more information, and we will let you know which type you need to apply for and send the normal invitation letter to you. The email is:: academy@chinashaolins.com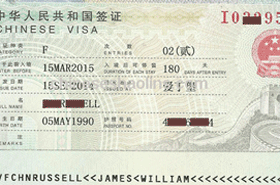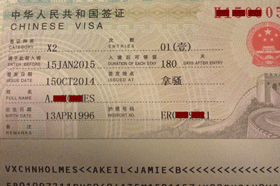 Sample : the photos of F type business visa and X2 type short term 180 days visa.
(The student can apply for one of the two visa types before arrival. After arrival, we can extend it if needed or change it into a long term student visa according to how long they will study. )
*Please Note: This shaolin kung fu academy is the only Shaolin martial arts institution authorized to receive any international students for kung fu study in Shandong province. It is issued from the Shandong Province Education Department, Foreign Affairs Office and Public Security Department China. Thus, this academy can issue JW202 forms and assist students obtain long-term study visas X type. For additional help, please email the school directly for an invitation letter and then you can apply at the closest China embassy.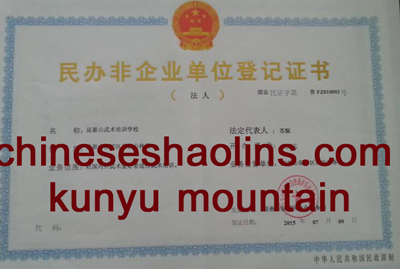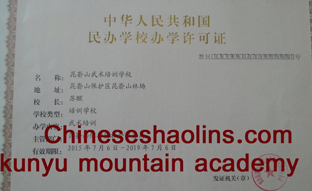 School certificates authorized by Chinese government as legal martial arts academy in China.
*Public Phone:There are public international phone and internet (and Skype )in our school for students to contact their family or friends.
*
Preparation

:
Students often ask about the kind of preparation they should make before coming to the academy. At our Chinese kung fu school at Kunyu Mountain, we place a high priority on physical preparations before arrival. This is done by practicing healthy eating, long distance running, swimming, sprinting, ping-pong, sit-ups, cycling, and other forms of exercise before your arrival. All forms of stamina training are good as they help students more easily learn the martial arts. All sports that help your body build muscle and get stronger are recommended, as are sports that help increase your aerobic ability.
* Items to bring with you: We offer tableware and bedding, etc. We suggest you bring sport clothes, loose trousers, and anything you will use during your daily routine at home. In class, there will be translators and masters who speak simple English. The translator will be useful if you want to go out and purchase something extra in your spare time.
*For posting package Notice:For posting, everyone needs to see this first before you have something sent to you. Chinese Customs has strict rules,Click here to see posting notice in details .(For daily supplies, we suggest you buy here in China instead of posting.
*
The weather here
:
Yantai is a coastal city with four distinctive seasons. The climate here is the best in China; it is neither too cold in winter nor too hot in summer. The weather and air here is much better than in the inland cities. In summer here, the highest temperature at noon is about 30 degrees centigrade; that only lasts for a short time. There are natural waterfalls and lakes as well as the sea. March, April, and May are the spring season, and the temperature ranges from 10°C to 25°C. June, July, and August are the summer season, and the temperatures range from 19°C to 30°C. September, October, and November are the autumn season, so the weather starts to get cool. The temperatures will range from 10°C to 28°C. Finally, Dec, Jan, and Feb are winter, and the temperatures go from -8°C below zero to 7°C above zero, and there are heating systems in each room during the winter.
Insurance

:
It is recommended that all students purchase an insurance policy. This is important as it covers all the expenses incurred in case you get sick or involved in any injury. Ensure that you check all the details and get the insurance in your country.
Language

:
As long as you can speak a little English, there won't be any language problems. There are five full time English translators in the academy who are very kind and friendly; they will help you communicate with masters during your stay here. The masters can teach in English with the help of the translators.

Traveling to our Shaolin kung fu training center in Kunyu mountain: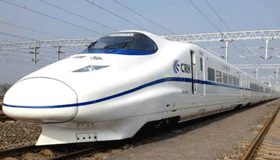 Notice: Yantai Penglai airport is very far for us to pick you up, so we suggest that you take the fast train to come here; otherwise you will have to pay extra 50 USD for pick up from the airport:
Click here to see instructions we have written for you on how to take the fast train in Beijing to Yantai and information about the physical health report we need.
We have students who used this website, english.ctrip.com, to book the fast train from Beijing to Yantai train station.
Fast train is very convenient for students to take train from Beijing to Yantai train station (or from Shanghai to Yantai)
Number G471: Depart from Beijing Southern station at 07:10 AM -Reached at 12:55 at noon at Yantai southern station,(5 hours and 45 mins). The fee is 47 USD.
Number G473 : Depart from Beijing Southern station at 11:40 -Reached at 18:04 at Muping station .(For this one,we can pick u at Muping station,Muping is more closer to us)

Number G475: Depart from Beijing Southern station at 15:35 -Reached at 21:27 at Muping station.
* Notice: If you choose take air from Beijing to Yantai Penglai airport, please book the flight that reached Yantai airport before 6:00 o'clock PM if possible. You can book a flight from your hometown to Beijing, the capital city of China. Then you can change to a domestic flight from Beijing to the Yantai airport. (1 hour ; around $90 for economic seats).After we got your arrival time in Yantai, we will arrange a translator and a driver will pick you up on time.
Please Note: It's easiest to book your flight or train from Beijing to Yantai in your hometown before your arrival. Sometimes you can't buy it during the peak hour after you arrive in Beijing, so it may delay your trip. Generally, the students book and buy all their flight tickets in advance before their arrival.

Flight number CA1585: Depart from Beijing airport reached Yantai airport 7:40 AM.(About one hour duration)
Flight number CA1545: Depart from Beijing reached Yantai 10:35 AM.(About one hour duration)
Flight number SC4854: Depart from Beijing reached Yantai 16:35 PM.(About one hour &10 mins duration)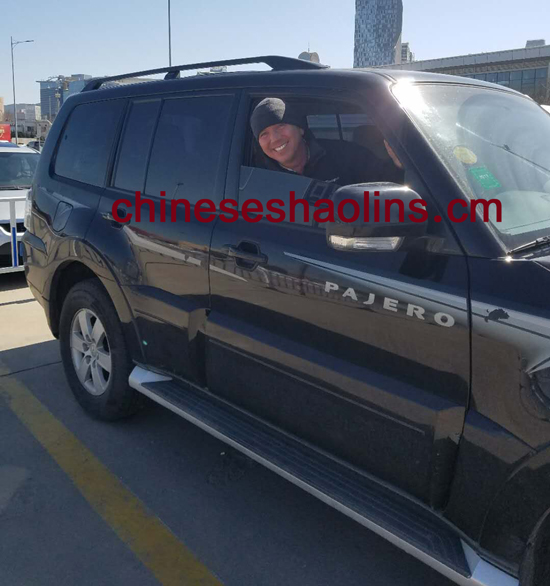 Safety school car to pick student up from Yantai airport or train station.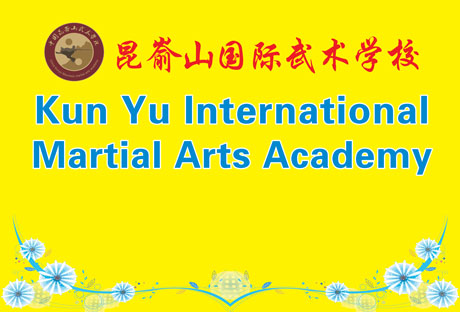 l

You can look for this Sign photo with your name on it during the Pick Up.
Our academy's location in Chinese map.(Coastal city in China)
Payment:The student can pay in cash or west union or Paypal or bank transfer in USD or Euro or Pounds after arrival.
* After the translator has picked you up and you have arrived at the academy, the key of your dormitory will be given to you. You will have a bed, sheets, the bedding, desk, wardrobe, washbasin, and a thermos bottle for free. However, we will charge you a 15 dollars deposit for it that will be refunded when leaving academy.

*All the bedding are recycled after being cleaned,but If you required the total new bedding set including bed linen,sheet,pillow and quilt,you can pay extra 95 USD around.

School Uniform:During the training and attending the competition,all the students would wear the school uniform together.
* A suit of Winter School Uniform designed with school kungfu photo with Chinese traditional style is required to purchase on arrival in cash,that is suitable to wear in autumn and winter and spring,it is 300 RMB (about 48 USD).A suit of Summer School Uniform is 210 RMB (about 33 USD).