● On Dec 24,2016,Christmas and new year 2017 is coming ,Merry Christmas & Happy New Year.We celebrated with students and have a great feast together,and we prepared a gift for the students who spent Christmas here.
It is amazing year for 2016 and we finished all the training program and several big competitions successfully with great scores.Thank you for all students supports and efforts.
In April 2016,our Our Kunyu mountain shaolin academy is awarded as Advanced Excellent School by Sports Educational Bureau of Yantai city for Five consecutive years from 2011 to 2016 Year.
●In Oct 2016,We participated the performance of international Exhibition of Yantai ctiy .
●On June 1st,two new traditional Masters joined us.One is Chen Style Tai Chi master who originally come from the birthplace of Taiji Chuan,Chen family village,and another one is traditional internal master of Xingyi Chuan.
●From May 9 to May 15 of 2016,the group of American school branch in China returned to train again,they benefited a lot from Chinese culture and traditional Shaolin kung fu.
● On Dec 24 2015,All school staff and masters of kunyu mountain spent a great dinner with the students to celebrate a brilliant and happy Christmas Days.
● In May,the school staff and students donated more than 3000 RMB for Nepal earthquake.
● In March 2015,we added two masters,one is a professional Tai chi master with rich Taiji theory and teaching experiences,another is traditional Shaolin & Mantis boxing master.
●The new year 2016 is coming ,all the school staff would like to send best wishes, Merry Christmas & Happy New Year to you and your loved ones, we hope you have a most happy and prosperous New Year.
---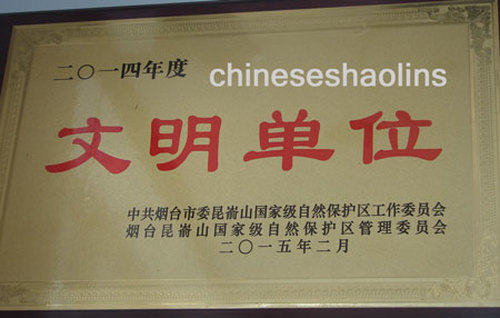 ●In February 2015,we are awarded as "Advanced school in spiritual and cultural progress" honorary title by the local government for many times,see the photo below: