Letter to new Kung Fu Training Students, From Our Headmaster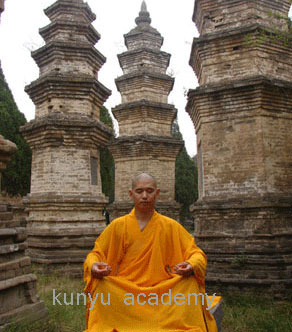 Headmaster meditated in shaolin temple.
Kunyu Mountain Martial Arts Academy offers an opportunity for foreign students to study Chinese traditional martial arts. The academy was conceived when Chinese martial arts and traditional Confucianism, Taoism, Zen Buddhism, and Chinese Medicine were integrated. It was opened in accordance with the development of traditional culture, prevailed with the improvement of Chinese nation's integral image, and has become more naturally prosperous by relying on the beautiful scenery and humanistic environment of the Kunyu Mountain.

Headmaster performed "Laying on steel fork" with Chi Kung 20 years ago.(Right photo)
With the development of the martial arts academy in China, we have the following goals:
●To promote traditional culture
●To make our school the most appealing international martial arts school in China; and
●To make our school an elite school for decades, passing on the essence of martial arts.
The martial arts academy mission:
●To operate a school with characteristics and responsibility
●To become masters with advanced martial arts ability and honorable martial arts morality, teaching students who have perseverance and righteousness.
The school motto, which is also my wish for all students and teachers, is to have a bright future, a virtuous heart, ambitious goals, to be enlightened, and diligent.Regardless of your skin color, country of origin and religious beliefs, every person at the martial arts school in China will be respected equally. Regardless of your martial arts previous experiences and ability, every master will try their best to patiently help you with achieving your Chinese kung fu dream. This is our promise to you.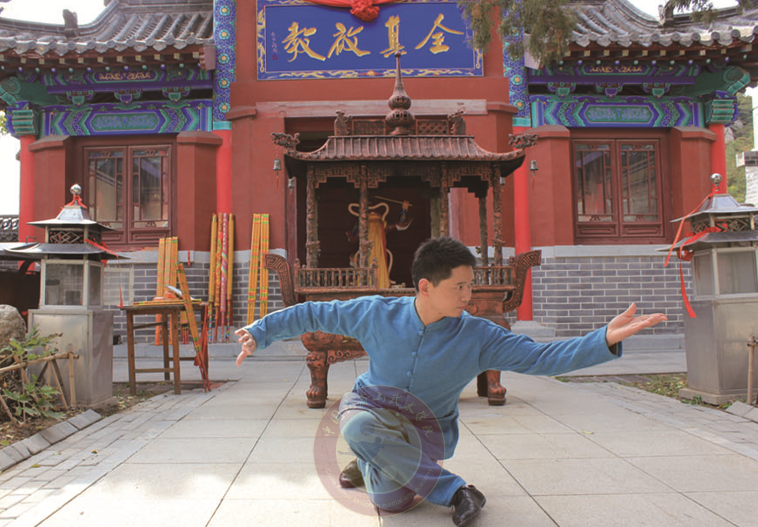 Headmaster is also the 12th-generation descendant of Chen Style Tai Chi Chuan.
No pain, no gain. For students who are studying here and are ready to come learn Shaolin training, I hope you can keep your goals in mind. Students of the martial arts academy should have the following abilities and goals set for themselves:
●A dedicated belief and determination to succeed at the applied concepts and techniques of Shaolin Kung fu.
●The ability to conquer any distractions, interruptions, and suffering of homesickness
●Keep the masters' words in mind, treasure time and study hard with indomitable perseverance
●Obey school's rules
●Show respect for each other, help each other with compassion and maintain the school's harmonious training environment
●Lay a good foundation, inspire comprehension, develop specialty and form your unique skills
●Behave sincerely, do not be arrogant and give up easily, pursue perfection and have no fear of challenges
●Do everything with diligence instead of natural wisdom, with improvement instead of previous basics, with skills instead of body conditions, with virtue instead of fund.
Headmaster in original shaolin temple.Headmaster performed Chi Kung in school performance.
You would try to be a martial arts practitioner with honorable martial arts virtue and advanced wisdom that wants to benefit the world with your special skills and make Your friends and the martial arts school proud.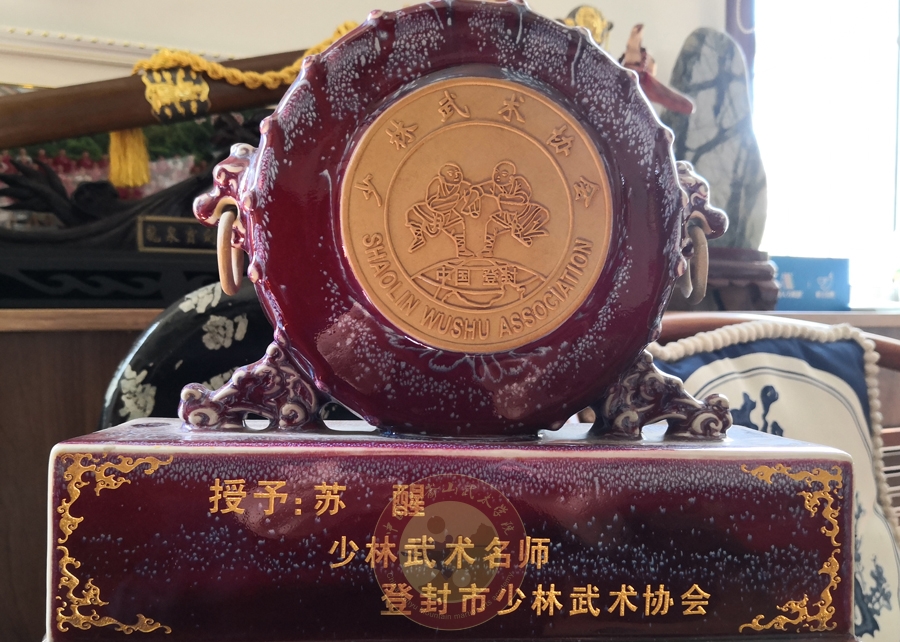 Headmaster is awarded Famous Kung Fu Master by China Shaolin Kung Fu association.
As a traditional martial arts progeny, I've benefited from many years of training and experiences. I developed a strong and healthy body and mind while also maintaining the purity of a deep cultural background of traditional martial arts. This was strengthened in the martial arts academy. Healthy body gives me a foundation to maintain my devotion to my martial arts career. The purified mind makes allows me to never lose confidence when becoming frustrated, makes me have a calm mind instead of being proud or sluggish when making achieving goals, makes me not lose myself, but keep improve when I feel lost, and makes me have a calm and clear mind to make right choices when facing the cross road of my life and career.
As a martial arts progeny and beneficiary, my wish is to spread Kung fu to the world. My working purpose is to help every kung fu practitioner to achieve their martial arts dreams. My responsibility is to make every practitioner achieve their martial arts goals. My dream is to let all people who can feel the appealing and unique power of martial arts benefit from it.
---
All martial artists in the world are a family. Let's work on spreading traditional kung fu and promoting cultural treasure.
One Thanks Letter from student:Johan Voskamp,(Netherlands).
E: johan-voskamp@hotmail.com Facebook: Johan Voskamp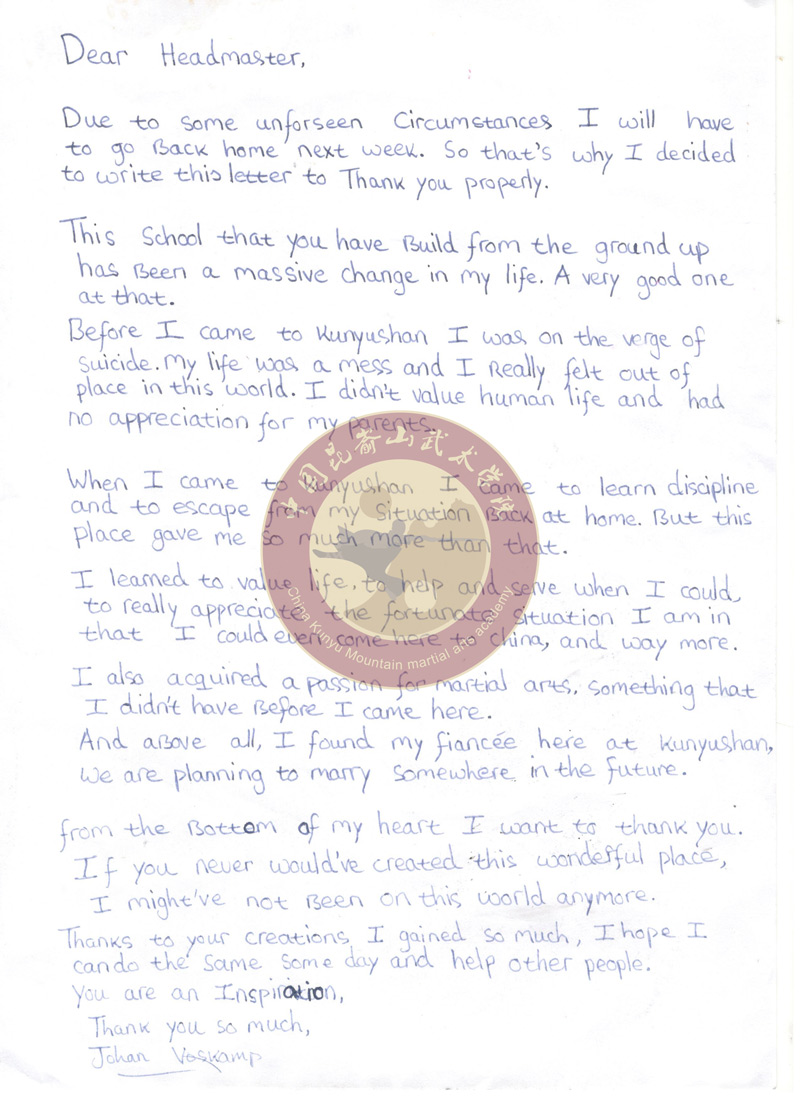 ---
One of Thanks letter from John Marinelli (USA) as well as his handwritten one listed:
Headmaster,

I am sorry that we never really got meet in person .But I still wanted to express my gratitude towards you.
Kunyu Mountain academy has been a dream come true for me . I always waned to study serious authentic shaolin kungfu. When I found kunyushan ,I know this would be the place.
Learning Chinese martial arts is something I take very seriously . I enjoy learning about the culture and philosophy behind martial arts ,as well as pushing my physical limits .Kunyu Mountain is an excellent school for anyone who wishes to enrich their lives and open their heart .
My dreams may not have been possible without you and this school . I hope I can continue to train hard to make the school proud .And I hope you accept these small gifts from my hometown in Brattleboro ,Vermont ,USA.
Thank you,
John Marinelli (USA)
Email:jmarinelli@marlboro.edu
Facebook:John Marinelli