Austin Helms (USA)
Ten Month Tai Chi course till Dec 2020
Email:awhleo93@gmail.com
Facebook: https://www.facebook.com/ahelms93/
1. Why did I decide to come to China and motivation?
It has always been a lifelong dream of mine to travel to China and study Kung Fu since I was a young kid. I would watch many TV shows and Kungfu movies, and I also really enjoyed Chinese culture and their architecture. Asian architecture, specifically China's, has always been my favorite from around the world.
When I found this school 5 years ago, it was the top rated school on the internet for Kung Fu schools in China, and affordable within my means. It was the perfect motivator to push me to take the step, and travel here.
2. What is my greatest gain at Kunyu mountain academy?
The greatest gain would be finally fulfilling the childhood dream of mine to travel to China, and learn about chi/life energy and real martial arts from highly skilled and accredited masters. My childhood-self would be incredibly happy and proud that I have made it here and trained in the place and with the masters that I have.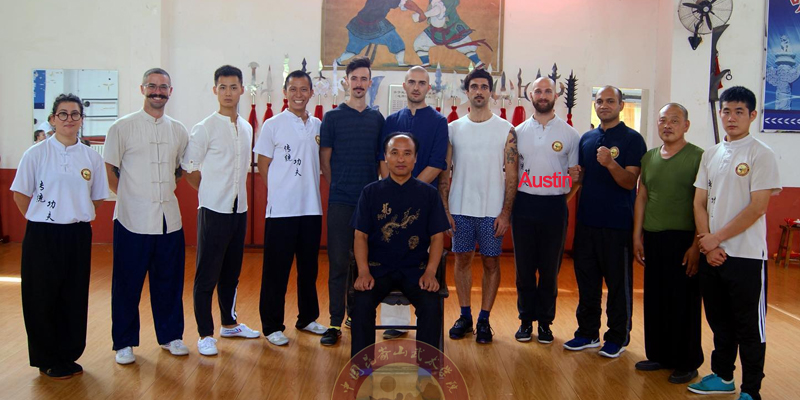 3. Who influenced and helped me?
Every single living being at this academy has helped/influenced me in some way. The masters here are beyond talented, and they are knowledgeable in all forms and skills needed to learn their specific style they have decided to teach. Specifically, Shifu Guo has been the largest influencer in my training here. His knowledge is the reason, I have made the progress I have, and that I even know how to do Tai Chi and Chi Gong (the main reasons for me coming to this school). Not to forget Xingyi Shifu, I came here also mainly to learn Xingyi, and I am very blessed he was able to come back to the school during the time I have been here, and was able to start learning and practicing Xingyi to be able to continue my training for life.
The staff at the school always have a smile on their face, and will go out of their way to make sure the students are happy and healthy. Makes life thousands of miles away from our homes MUCH easier. The translators are a very huge part in life here, and I have loved being able to meet all of the translator's that have been a part of my journey, and especially being able to form friendships with them.
The students here, of course, have made the largest impact, because they are the ones that I live and train with. I was very blessed with the group of people that I have spent the last year living with and have made many friendships that will last a lifetime. and last but not least, even having a campus pet, Heibei, has been something that can't go forgotten. Being able to play, cuddle, and love on an animal is a very soothing and healing thing for many people, and she has made life here that much more enjoyable.
4. A brief summary:
My experience here has been nothing but positive in my opinion. There have been hard times, especially with the life here with a worldwide virus pandemic, and that has really been the largest negative about my life here. My experience of life in China would have been worlds different with my freedom not held back from experiencing all that China has to offer.
Then again, that is all understandable and has nothing to do with how the school handled it, and it was out of their control. The training schedule is great and organized. I have never felt lost during my training and did not feel as though I have wasted my time. Daily life at Kunyu academy has been amazing even with our lack of being able to sleep outside the academy. The students here and staff have made all days enjoyable and always something to be able to do.
The masters have shown me kindness, humbleness, and pure badassness that won't be forgotten. It has been a pure pleasure to be able to train under them, and learn from their skills. Last but not least, the translators, I was able to build a relationship with every translator here, and that has been such a great experience to be able to talk in my native tongue with a native Chinese person. It makes adjusting to the Chinese culture and life much smoother with a person I can text or talk to instantly and have an answer I can understand.
5. The surroundings of the academy:
I have fallen in love with this area and the surrounding cities. I have mentioned/joked countless times that I wanted to move here and live in the village. The mountains are beautiful and literally outside my window, and there is not one view in this whole area that doesn't have a mountain view. I got to experience very clean air and skies during my year here.