One year course From Aug 2013 to Aug 2014.

Charles Grenier (Canada)
I was motivated to come in China because this is where Kung Fu comes from. What motivated me was that kunyu mountain shaolin school offered the possibility. My greatest gain was this one year experience. My body, my mind and my skills have improved. I met awesome people. it was really nice.A lot of people helped and influenced me. Most of all, the Shifus (masters). They were always there to answer questions. They pushed us to do better. I will always remember, lower, faster, more power. The other students helped me with daily life and influenced me in doing better.
The training here was good. It was really exhausting sometimes. Especially on Wednesdays. I got much experiences from the training here. The masters were all very nice. Each of them have a different personality and a different approach in training. They all bring something good to the school. It was great meeting them. And for the translators, why they are here!? I know one of the translators is reading this, it's just a joke. This experience in this school would not have been possible without the translators to help me. Thank you very much everyone for your help.
The surroundings of the school are incredible. All year long it's beautiful. The air is fresh and feels more pure than big cities. The mountains are a really good sight to see everyday.Thank you for everything.


Email : charle-346@hotmail.com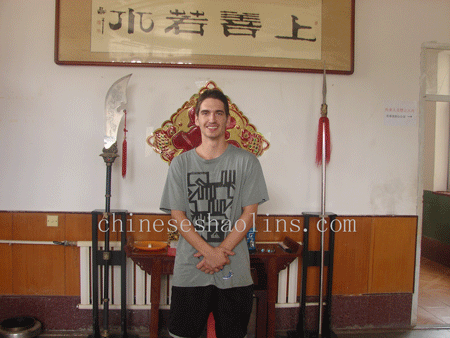 \

Returning student Emmanuel Varvounis (France) One month in Aug


Email : e.varvounis@free.fr
Because, for me, China is the mother of Martial Arts in the world. And also for me it's a very good philosophy. My greatest gain is that I received the best Chinese martial arts lessons in the academy which is the place of professional experience.Maste Guo was my master during my period in the academy.
The experience I had in the academy has been practical both mentally and physically. Translators are very patient and thanks to them we can very well understand what we want to ask the master. The teacher who taught me the Wingchun, Master Guo, gave me the desire to return as soon as possible to the academy. he gave me his knowledge and also Qigong. I want, personally, to thanks very much my master. I respect him a lot of.Also I like the academy because it is located in the nice mountain Kunyu mountain.
Thank you for all.