Three month course from May to August 2016
Keith Rios Couple (UK)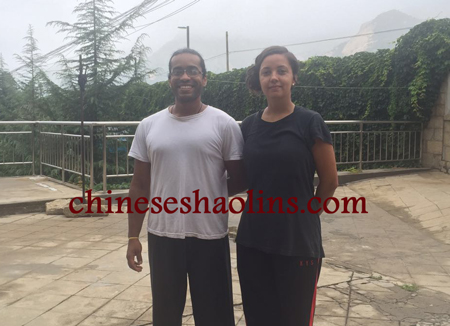 I would like to study kung fu in a traditional kung fu school in China since i was a kid. It took many years to do it. And I'm really glad that my dream became real.
My greatest gain was to learn from passionate masters and motivated students, and having a feeling of being in a big kung fu family.
Everybody influenced and motivated me. It was an incredible energy. The experience in the academy helped me to train my spirit. Mind and body again, living a pacific life in Kunyu mountains. The translators try to help every time they can. The masters haven great experience; they are very patient and push us to the limit, so we can achieve another level in our training. I'm grateful to have a chance to learn from them.
The location from the school it´s in an incredible place surrounding for the Mountains and wonderful lakes. Sometimes we went to the mountains and lakes to training. On Weekend we can visit another cities like Yantai, where we can go to the beach, restaurants, bakeries, etc, but without exaggeration, because Monday begin the kung fu train again
Thanks to everyone and special thanks to Sifu Gao. I send here this little present with a feedback together.
Their Email: kissirios@gmail.com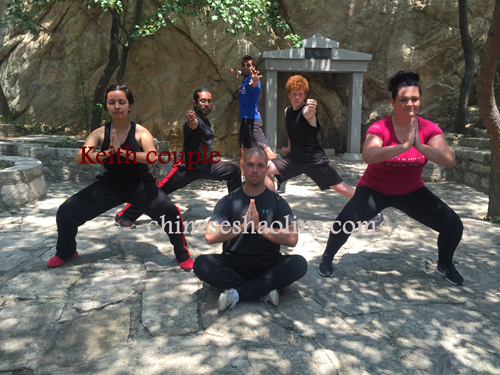 Keith couple training Shaolin kung fu in Kunyu mountain.
-----------------------------------------------------------------------------
Two months course from June to Aug 2016
Samantha Jacqueline and her brother Tom from Holland
I came to this school because a friend of me went to this school a year ago and she told me about her amazing time she had here and the experience. I always wanted to train in a kung fu school in China so I decided that this was time to go! I am glad I did it and will never forget it.
I like the power training on Wednesday and the big mountain every once in the 2 months. I didn't follow the optional classes because I wanted to train. It's nice that you can choose what you wanted to learn in private class. And I really loved the privet classes with shifu Sun (to learn snake form). I am really glad that shifu Sun is my shifu. I learned a lot of him and I like the way how he coached us. I also liked it that the groups are mixed with men and women.
Shifu Sun and other students. I asked many students to help me with different forms and everybody was really kind and helpfulness.
I was really happy with my master, he was good! The translators were nice. I really loved the environment (the mountains and the lakes!), it's beautiful.Thanks for every this 2 months, I enjoyed the time!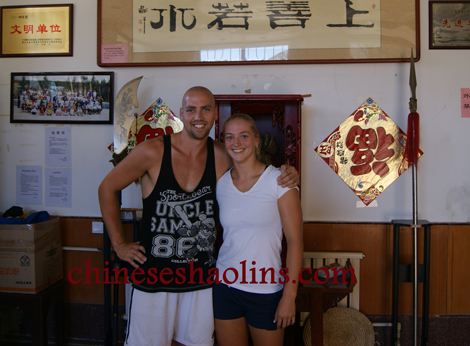 Family groups (brother and sister ) trained here for two month in Kunyu Mountain academy.