One year course from Feb 2016 to Feb 2017
Dimitrios Kotsavasileiadis (Greece)
I choose China because it is the birthplace of Kung Fu and all of the movies documentaries and other sources that have inspiring the western world, also led me to the discovery.
And I studied Shaolin Kung Fu for one year in Kunyu mountain Shaolin academy China,there are many useful things one can gain knowledge from here, as I did, such as: self discipline, strong will, physical and spiritual strength and more.

It feels like a fairy-tale being able to live in such a place where all the moments are motivating and unique. All the small things and changes from daily life give one inspiration and a sense that everything is possible.
Thank You!
Email: dimitrisbambacha@gmail.com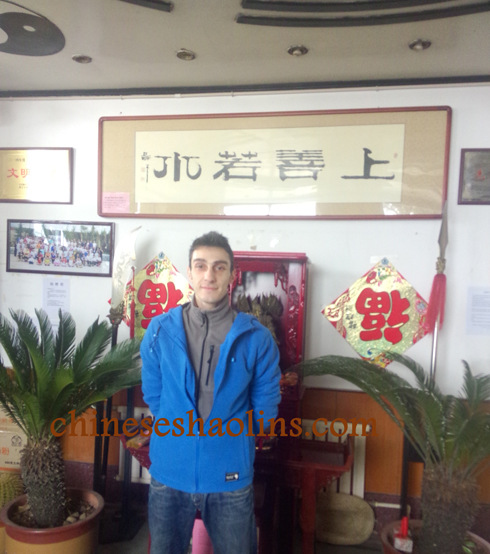 Dimi trained here for One Year Course.
Romina Maurelli (Canada) One Month course in March 2017
Because I think China is one of the best countries to practice martial arts as it's been within the culture for many years. My motivation was learning some kungfu in Argentina many years ago and always knowing there was a possibility to come to China to get more into it as my teacher at that time did.

My biggest gain is the discipline and persistence that is required to be able to keep up with the group and always do your best, no matter how sore or in pain the body feels.
My best influence was Master Gao. He is an amazing and very wise person with a lot of personal stories to share to motivate me to keep going and never give up, that the road is hard but worth it at the end. He always pushes us to be better during training and as a person. As well as couch Mong, he was always so patient as he was the first one who taught me all the very basics until we caught up to be able to train with the more experienced ones. He would always do the movement over and over again. He always walked by and made sure to correct the positions, he helped me a lot getting my forms right. Everyone in the group made me feel welcome and always had a minute to show me anything I would ask while practicing. I believe the people in the group has a big influence on wanting to train and be there everyday, no matter how your mood is.
My experience was really good; I had a great time training, even though it was hard and painful the first few days. All the masters and translators have been very helpful during my time in Kunyu, they always answered all my questions and help translated when needed, including to get written sentences to be able buy things at the supermarket.

The surroundings are beautiful, I really like the environment, the mountains and that there is almost no pollution compare to other parts of China.I could see a couple of lakes unfortunately as the weather was not the warmest, but they are a great place for warmer days when you need to cool down. Yantai city is just a convenient place for shopping, I was only there just the one weekend and it was enough for me.
Email : romi285@gmail.com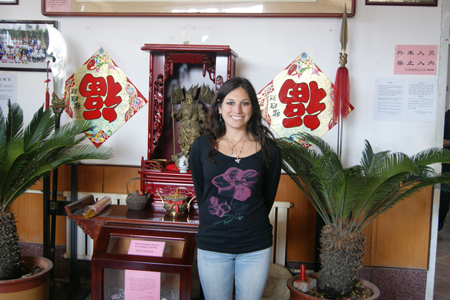 Romina (Short term study)