One month from June to July 2016
Skafti Eliosson (Father and Son) From Iceland
We spent one month in Kunyu mountain shaolin kung fu academy as China is the birthplace of Kungfu.An old dream motivated me,so I am there with my son.
We trained Wing chun and also improved Better condition and flexibility.Ariel and fellow students also many help to us.
Overall is very good experience in the academy. Good teachers and fellow students.
Surroundings are beautiful and the mountains here are stunning. It is fine to visit Yantai city.
Email: Skaftie@gmail.com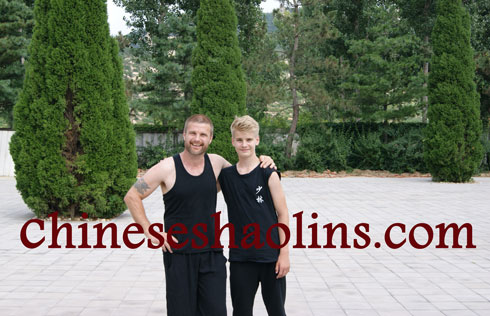 Family groups trained one month here in Kunyu mountain China.
-----------------------------------------------------------------------------------
Six month course from Jan to July 2016
Gabrile Errico (Italy)
Passion for martial arts and the curiosity of study the possibilities that martial arts could offer me. The most motivating person was a colleague from work which was the one who first introduced me to the arts. I noticed his attitude, generosity but in he was different and I was impressed how smoothly, bravely he could handle every day's problems; so he stole my world. I wanted to know more, after a while I decided to come to China, the birthplace of Kungfu.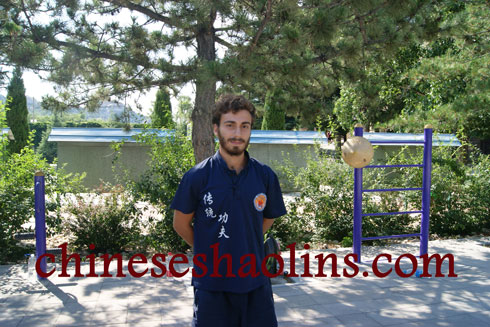 The greatest achievement it's probably the real ideation that I can't stop working with myself and my emotions. I also gain in health. I used to have legs pain and pain and the training here for sure helped me, kind of fitted me. I won't give up sports, for not sure.

Every one, everyone just have a piece of themselves to let me grow. I have to say, some people have bigger pieces and I am so great full.Training it's awesome; you have enough time to rest of practice some more if you like.

I loved to have week-end off because normally I always used to work back home.
The working staff it's always pretty helpful, and the masters unbelievably acknowledged, so there is always something new to learn.
The air around the academy is very nice,the mountains surrounding the scenario is amazing as well as the super nice monks living by the mountain, in the temple near the school. I won't forget them.
Email :shaolinwingchun@outlook.com