Isabelle Fournier (Canada, Québec) Nine months training here.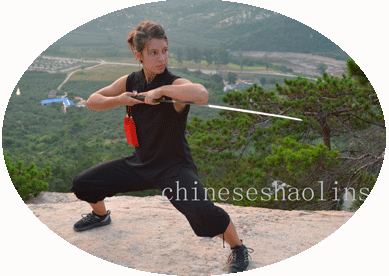 I went in China to the Kunyu mountain Academy because I was looking for a one-of-a-kind personal development and an artistic way of practising sports.
My experience at the Kunyu mountain academy has certainly helped me to develop an incredible personal discipline in many ways: physical,artistical, psychological and mental. The warm welcome by the interpreters, the quality of the teaching, the masters' wisdom and the student culture altogether made this journey way better than in my expectations. Everyday made me discover my inner energy, which influences more martial arts than does the muscles development.
There, I learnt the importance of linking my mental capabilities to my gesture while practicing several styles: Tai Chi, Qigong, Wing Chun, Baji and Bagua. Moreover, my most amazing discovery about martial arts was Baji, a style too little known in the world. I literally fell in love with this deep experience of great beauty and great power. It has been a pleasure to have the opportunity to participate in many performances and competitions to present this martial art. Really, it has been an honor to have the chance to participate in these activities that made my journey so unique and that helped me feel my master's recognition towards my efforts.
The masters have a huge respect for who we are and what we need, and they know how to interact with every one of us. Their sense of humor brightened my training. Thanks to them, after nine months of training, I feel really more balanced, in control of myself, in very good shape, more confident, happier, and more conscious about the energy that goes around, in me and between each one of us. Everything in the Academy helps us focus more than ever on our practice of martial arts so that we can find our own way and have support to do so. This is why my stay at the Academy became an important experience in my life.


Training at the Kunyu mountain is so revitalizing, so inspiring and so healthy for our soul. It is worth a long stay. I personally think that it is after three or four months that I was able to really feel the big difference brought by a daily strict training, and that I really understood the whole non-verbal education of the masters. Indeed, the masters of this academy are definitely role models that mark a life.
They teach us simply with who they are, and not only with what they do. During the whole stay, we discover at which point the quality of martial arts depends on our inner life, and not only on our physical movements. By the way, I think it is essential to participate to the Tai Chi and Qigong classes before breakfast. In fact, everything brings us to take a fresh look on our life. I will never forget my journey at the Academy since it is now part of me and since the learning I acquired thanks to my masters will still continue to influence my decisions. master Guo, who was my Tai Chi, Qigong, Wing Chun, Sanda, and Baji master during the last nine months, is certainly one of the most important people I have met until now. Another Wing Chun master also played a significant role with his strong presence while I was learning Wing Chun and Baji, and with his incredible wisdom. My first Tai Chi master and Bagua master, also has an important part of my recognition, just like master Gao and master Chen, who are all kind and inspiring people.I would like to thank everyone of them. Thank you also to the interpreters, who are like real mothers, and to the adorable staff members.
Email:isaa_501@hotmail.com