The training course from July to Oct 2015


Jason Andrew Lloyd Fox (UK)


I wanted an authentic experience in the country where Martial Arts originated,then,I was here and spent three month to train kung fu with master Sun.I now have a love of Martial Arts and I realize that it is not a skill you learn but practice and improve all of your life.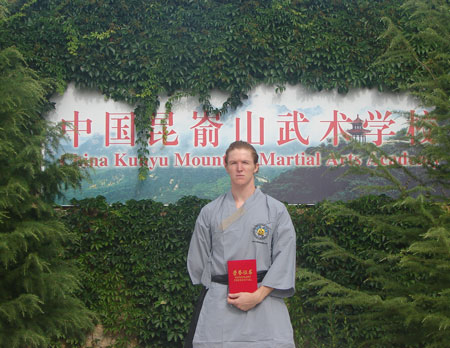 My Master Sun with his skill patience understanding and great abilities as a teacher. The students in my group are particularly friendly and helpful. The training schedule is well structured and demanding. There is a good mix of different activities with time to practice alone and with others outside of the class time. The masters are all excellent with very high skill level. I feel lucky to have had access to such a broad range of disciplines to learn.
The translators are a great asset and always happy to help us in any way they can.

Beautiful very special place. Mountains, temples, big city, life and the sea coast of Yantai Muping.
Email:MARK.LloyDFox@YAHOO.CO.UK