Seven month course from Sep 2013 to April 2014.

Julia Wellhoefer (German)  I've always wanted to visit China, as it is an amazing country with so much history. However, it is the birthplace of wingchun, which I've been studying in Germany and I wanted to learn from and actual Chinese master in the country where its origin lies.During my stay here, I improved a lot both physically and mentally. I learned many forms in wingchun and taichi, became stronger and healthier. But the most important gain for me is self-confidence, openness and just happiness.
I met so many amazing people from all over the world during the past six months, one of the people who influenced me most is probably my master, who taught me with patience and always kept and enjoyable atmosphere during training. All the other students in my group were also really friendly and helpful. The three students who had the greatest impact on my time here were Areil, Diana, who became my best friend, and Juan, who has always been there for me.

The daily life in the academy is just amazing, as it is so simple and I hade no problems or problems to think about. The training is diversified and the masters know how to push their students to their limits without breaking them. The translators also did a very good job and were very helpful with any questions or request.
The surroundings of the academy are just amazing, beautiful, especially in spring. The air is very clean and provides a perfect training atmosphere. Yantai is a nice city to vist on the weekend.
Email:julia-cara.wellhoefer@t-online.de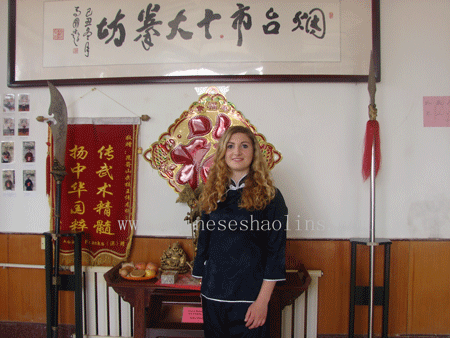 Six month course from Oct 2013 to April 9 2014
Terry (Australia)
I have always loved martial arts, particularly Kung Fu. I had not travelled overseas before coming here so I figured that this would be a perfect place to spread my dream wings.
I don't think I could name all of the ways this place has change my life. I believe I've become much more disciplined and physically much stronger. Liu Shifu has taught to be more respectful and mindful of others. It has been incredible to experience Chinese customs and culture.
I have made many great friends from all over the world, all of whom made experience as good as it. Both Liu Shifu and Guo shifu have been great influences in their own right. Liu Shifu with his stern attitude towards training has always pushed to be better in all aspects of my life. My master is very dedicated to his work and he always carries it out with a smile and a good attitude.

The life here is quiet tontine most of the time which is to be expected, but I believe the students here would greatly benefit from a common room where they can all relax and unwind. If would also be good for social cohesion, adding to the "family" environment that the staff seem to aim for. During winter, I found the academy to be somewhat boring and depressing at times due to a lack of socializing in a comfortable environment.
The surroundings are beautiful, and the nearly cities are quite good.
Email : wrigglyninja@live.com