Three months study from June to September 2014

Julia (From Germany)
I always have the dream to go to China and train shaolin Kungfu where it came from. All away from surroundings they can distract you; with people they think and feel the same,Kunyu mountain school is right place for me.
I learned a lot about my own body, got to know me better as well as shaolin kungfu. Thinks I want to improve in, I have to get better at, but also things I can do it I just try. My biggest improvement was probably in Sanda-training.I never thought I would meet people I can share my thoughts with. They made my time very special.I'm very thankful about my masters. He is a very caring, passionate and helpful person. It was a pleasure to meet him and to be able to join his family, even just for a short time. Thank you.
I didn't have to worry about daily life in school, which was great. The fixed plan makes it easier to concentrate on training.
It was important to have the translators around, not just for communication but also because of their personalities. They made my day better so many times with just a simple smile.
The surroundings of the academy is simply stunning. In the middle of mountains, a short wall to the lake, especially in the summer time a welcoming refreshment, and of course the temple, which made it special.Yantai is a good place to go out on the weekends, get to learn the real China life a little bit better and sometimes enjoy the busy life. The cab drive was always a great adventure.
Email :neyerjulia1@gmail.com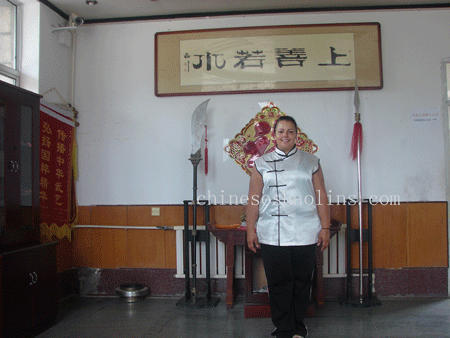 Benjamin Husson (From France)
Three month study from June to September 2014
Because the best Kung Fu masters are in China, I wanted to train in a real Kung Fu academy 5 days a week,so I choose kunyu mountain academy.I learned a lot shaolin kungfu and discipline, respect, as well as a great improvement in my physical condition.I'll never forget my master, then my Shaolin group with amazing people and a great spirit.
The training was really hard for me at the beginning, but once I got used to it, it became pure pleasure. Even if the food wasn't great the daily life was good thanks to the kind translators.The surroundings of the academy are wonderful especially the mountain where we practice the mountain running training. The lake is also a nice place to relax.
Email :benjamin.husson@2016.icam.fr