Three months from Feb to May 2014
Kirsten Ogilby (Denmark)
I choose to study Kung Fu in china because the academy offered the possibility of increasing me in my training. As well as the culture that fostered Kung Fu. I hoped this would give me a better understanding of the underlying principles of Shaolin.
I think my greatest gain from my time here is a better understanding of myself, as well as a greater degree of patience. When it comes to physical arts, I am a fairly slow and uncertain learner, with all the body awareness of a master that said. At kunyu mountain I learned to set myself a goal and particularly work at it untill I achieved it, as well as the virtues of never giving up and facing up to whatever scares me. I also learned to listen to my body, and understand how it works.My greatest influence during my time here was my shifu, who helped and encouraged me throughout my stay. He never accepted anything less than me trying my best, every when I was clearly failing, and if helped me reach were of my potential.
My experience in the academy has been overall very positive. I enjoyed the intense training, as well as the close-kind and friendly student community. The translators have also. All been very friendly and helpful, especially cindy, who picked me up from the airport and did her very best to make me fell at home. I am also incredibly impressed with the masters, especially, as mentioned before, my master.
The surroundings of the academy are extremely nice, it is lovely to have a lake to swim in, and the Daoist temple and the mountain are absolutely spectacular. The general atmosphere is very beautiful and really nice for training.
Email : Kristen_ogilby@hotmail.com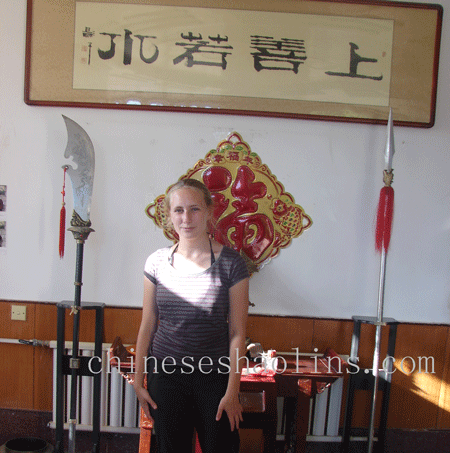 Two months from April to June 2014.
Tara Shae (Mexico )

To be able to travel for the experience, to do something different in my life,then,I came to China kunyu mountain academy.The greatest gain would be everything I learned, getting more stamina and being able to learn Shaolin.A lot of the students helped me, from people in my group to people in other group as well as my master and translators.My time at the academy was fun, the training was really good.
I enjoyed everything we did, going to the temple every Friday for the run was challenging but also fun. The weeks would pass by very fast. The translators were good and do a good job translating what the master says.The surroundings of the academy are beautiful, the mountains, the lake, the temple, the fresh air everywhere.
Email: tarashae@hotmail.com