One Year course from July 2016 to July 2017
Pedram Rahdeirjoo (Norway)
When I was younger I always wanted to study Kung Fu but there weren't any places here to do it back then. With no proper Kung Fu school in Norway I decided to look for it in China, after all it started there, so would be better if I started there as well. After a while I searched long and hard and found Kunyu mountain kungfu academy.

I must say my greatest gain was my improvements both physically and mentally.I came in Kunyu with some damages and old long lasting injuries, but once you get used to the training, and Chikung every day, my body started to improve. My training helped a lot for my mind and body's conditioning, while Chikung helped my body to heal.

I came to Kunyu with an attitude to give a 100% no matter what. But if I ever lost a little passion or motivation, then I always looked up to my older students and Master. They made sure to always make me feel like the part of the Kun Fu Family and always made sure that I understood what we were doing.

I came to Kunyu Mountain Shaolin Kung Fu Academy to stay a year and study Wing chun. During my stay there I went through a lot of great challenges but physically and Mentally. But no matter how hard or difficult things get, you're always surrounded by your Kung Fu brothers and sister to help you rise up and improve.


What I love about the Wing Chun system in the school, is that my master and coaches helps you to get a better understanding of the movements and the applications. And not only that but it's a good mix between strength, speed, and Chikungs healing.
Not only do we learn to do Kung Fu, but we learn to use it in live combat. At least once a week are we doing Sanda(Chinese kickboxing) courses. Here we all try out our fighting skills, but most of all, get comfortable with the whole idea of fighting and defending yourself.

In the beginning it might be very hard, but once you push yourself the first week or two, everything becomes so much easier. Not only practice but your everyday life, many people are not used to the living ways in Kunyu but gets quickly used to it.

During my one year stay in Kunyu Mountain Shaolin Kung Fu Academy I've learned a lot, and not only Wing Chun but also, Sanda, Taiji, Baji Chuan and Chikung. Kunyu is a place on endlessly learning, but only if you want it to be.

I feel lucky to get the opportunity to come here and train under my Master Guo and learned so much from him.
Email: Pedi-r@hotmail.com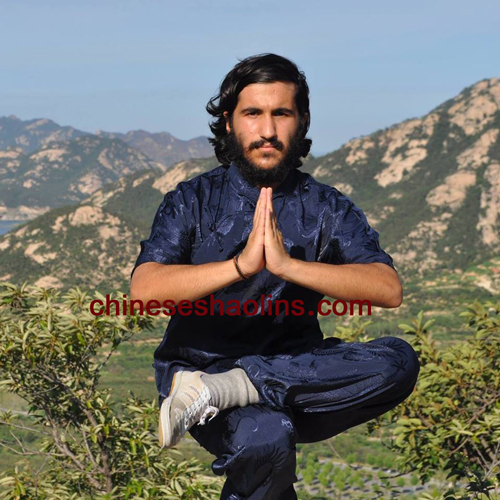 Pedram spent one year training in Kunyu Mountain.