Name: Philine von Hirschheydt
Arriving Date: 2016-09-06 Leaving Date: 2017-08-29
I first came to Kunyu Mountain in April 2016, planning to stay for 3 months. I love Martial Arts, and the idea of coming to China to learn Kung Fu has been in my mind for a long time. Shortly after arriving I started feeling that three months were not going to be enough. After seeing what could be reached, if I spent more time here, I didn't want to leave without trying to actually get there. So I decided to come back as soon as possible, which I did in early September 2017.
Many of my goals I have achieved. My physical power and stamina have improved further, and my mind has grown stronger, too. I have reached a level of flexibility, physical and mental strength, discipline, endurance, coordination, balance, etc. that I never thought I could reach.
My biggest Thanks go to my Shifu, Master Sun. I couldn't have done what I did without his guidance; pushing me, when he saw I could go further, encouraging me, when giving up seemed so tempting and with his mere presence reminding me of what I came here for. He has been a great teacher, not only in Martial Arts, but also for life.谢谢,师傅!
I'm very grateful to all the other Masters as well: Shifu Guo, who taught me Tai Ji (and in the end also Wing Chun and Baji), and Coach Lôc for their guidance in Qigong, Master Sui for the countless Massage lessons, Master Shi for the help in my few Xingyi-Lessons, Master Meng for teaching me my Shaolin basics when I first got here, Master Gao for the occasional Sanda lesson we did together with his group– and all the Masters in general for sharing their enormous knowledge of Martial Arts with us.
I found good friends among the students here. Bonds you form in a place like this feel different, at least to me, and I will never forget the great times we had together, nor the many things I've learned from other students in both training and daily life.
I would also like to thank the translators (especially Angel has been a real pearl in my last months here, making the Mandarin lessons as enjoyable and informative as never before); all of them do the best they can and are always willing to help you out. Thanks to the gatekeeper, for staying up late or getting up early just to let a student in or out, keeping us warm in winter and always smiling when you see him. And thanks to the kitchen team, always getting complaints, but considering the circumstances doing a really good job!
The training in Kunyu Mountain is as hard as you make it. However, if you're not into hard training, don't come here. (I'm not relating to one's physical condition here, but to one's motivation, spirit and attitude towards the training.)This is an academy, not a holiday home. If you want, you can train for the 3 compulsory lessons (4 hours altogether) a day and do whatever in the rest of the time. There is an optional Tai Ji & Qigong class in the morning before breakfast and another optional class (either Qigong, Xingyi or Mandarin) in the afternoon before dinner. They also offer one class a week in Massage, Acupuncture, Taoism and Calligraphy. Even if you take most optional classes, there is still plenty of time to train by yourself, read, go for a walk, swim in the lake, play games with other students, watch movies or do whatever else you want.
The air around Kunyu Shan is relatively clean for Chinese standards. You always do get really nice days as well. The mountains around the school are a magnificent sight, and in summer the lake is an inviting opportunity to swim and chill out. The closest city is Yantai, and about half way between Kunyu Shan and Yantai there is Muping, where you can get most things you need for daily life. The Nine Dragon Pool is not far, but if you want to go there, you'll have to organise it by yourself and pay for the entrance (40 Yuan).
Email: philine.von.hirschheydt@gmx.ch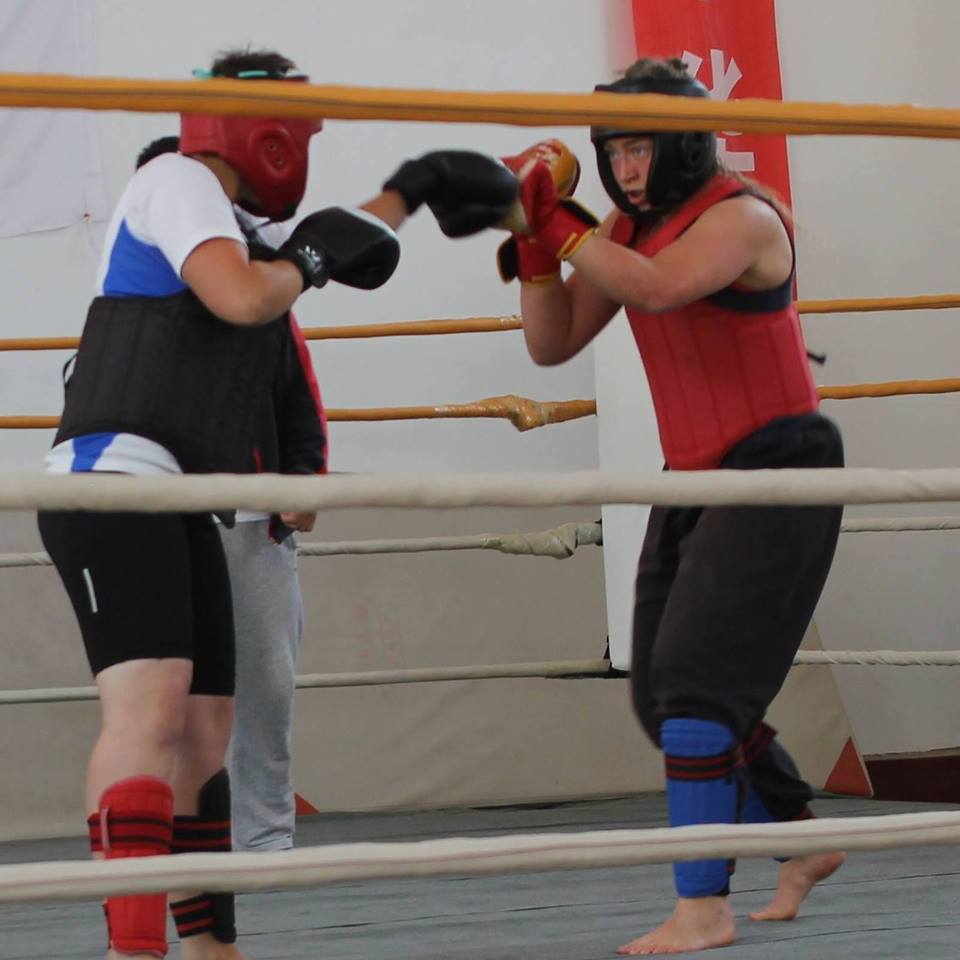 Returning student Philine --On the right of Photo.