Mother (Singapore) and 2 young sons (U.S.A.)
June 2009 (first visit), September 2009 (2nd trip), May-June 2010 (3rd visit)
I am a 40 something working mom with almost zero martial arts experience. I arrived with my 6 and 8-year-old sons for a one month "retreat" at the Kunyu Shan Shaolin Kung Fu Academy.
The 4 weeks at the Academy were the most fun I have had in the past 3 years. Our "team" comprised students from Europe, Australia, North and South America, and Asia. Everyone looked out for each other, and the more experienced students tried to help the newcomers. Despite our varied backgrounds, we were all drawn to the Academy by a common dream- to learn Shaolin kung fu.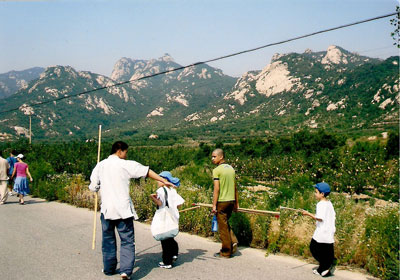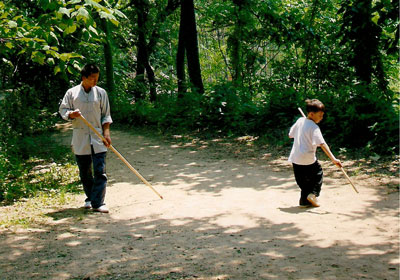 I thought I was fairly fit, but I was not used to exercising 4-5 hours a day. The first week, I hurt everyday from my neck to the top of my feet. The next 3 weeks, I survived on acupuncture.
Master Wang was both drill sergeant and role model. His humility despite such skill was something I hope my sons will learn. He was always looking out for the boys. Beneath the strict demeanor was a kind and thoughtful soul. When it came time to leave, I wanted to pack him with us back to Singapore!
As another student correctly wrote, the academy is not a 5 star resort. Umm...it is not a 3 star resort either. There is a communal washroom where everyone gathers to brush teeth, shave, wash linen, etc. A great way to get to know the other students in their unguarded moments. The accommodations are comfortable enough and the food decent. Go with an open mind and a sense of adventure and you will be fine! Or as I told my kids every day, "stop complaining and tough it out!"
The web page recommends running 2-3 km a day. I suggest double that. Try an adult gymnastics or yoga class at least 6 months ahead of time. Flexibility is paramount in kungfu.
On our flight back to Singapore, my 6 year old said to me, "I want to go back to Yantai tomorrow to see Shifu (Master Wang)."
I have purchased tickets to return in September.
Return to Kunyu Shan
This was our 3rd trip in 2 years to "the Shan." Stepping into the school compounds brought a familiar rush of peacefulness and calm. I had spent 9 months looking forward to escaping city life and all its stressors.
People often ask me why I drag the boys to rural China for training. After all, the boys take regular kungfu lessons in Singapore. And why don't you go to Beijing? There are lots of martial arts schools there. My explanation is that the Academy provides the most complete martial arts training short of a stint at the Shaolin Temple.
In Singapore, the boys are taught similar forms and routines. But the emphasis is looking good on stage during a performance. Or winning medals in competition. At Kunyu Shan, they learn the practical side of kungfu. The applications ("see this move, this is how you use it to defend yourself.") They see the other students hard at work after class. "Why are they still practicing, mom?" My reply, "because they love kungfu. They want to improve." They are exposed to enthusiasm from the other students (very contagious).
Most importantly, the boys see the Masters and watch how they treat people. None of the Masters are arrogant or boastful. Our Master exudes humility and kindness. This is perhaps the most important lesson in kungfu.
A fellow student emailed me last year, "you didn't get enough punishment the first time?!?" I laughed. Training has not become any easier after 4 knee surgeries. Don't tell the boys; I guess we'll have to make a fourth trip.