One month Summer Course in July 2014

Ethan & Nico Sneider ( USA)
Returning students :They came to study for one month last summer.

We enjoyed experiences last year and wanted to continue my training,then,we returned,Kunyu academy are best place to study kung fu.We have learned that I can push myself passed my limits and goals.My ability to stay relaxer in my movements.Masters helped us make this experience great.
We spent a lot of time training, masters, students, and translators helped me everyday.I think it's a beautiful area with attractive city areas and stuns with essentials. I love peace around the academy. The mountains are beautiful. The lake is very cool.

Emails: eitanswidevt@gmail.com

Email: nicolassneider@me.com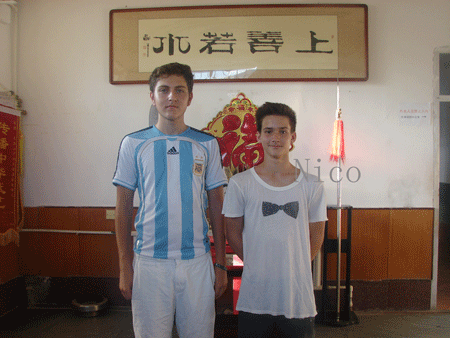 Returning students
-------------------------------------------------------
Three months course from April to July 2014

Zhou Siyu (Asian American)
I liked the training at Kunyu mountain school a lot and the masters are all very professional.
I really completely increased myself in the training and culture.I improved in Shaolin kung fu here.My Shaolin master is always very motivating and cases a lot about his students. Also all the other students were very supportive and helpful.During my stay here,I learnt Shaolin basics,Wu Bu Chuan,Tong Bi Chuan,XiaoHong Chuan, and Application,Sparring,Sanda (Chinese kickboxing ) ,Chi Kung ( included Ba Duan Jin and Yijinjing), etc.

The scenery is one of the highlights of Kunyu school. I especially enjoyed the weekly temple runs on Fridays.
Email:Phoebss-zhou@yahoo.com