Four weeks training in 2014 June

Mukulia and Metta (Kenya and Sweden)

We chose China because we wanted to learn Kungfu from authentic martial arts masters. We wanted to gain experience of how to make Kungfu a way of life,then,we are in Kunyu mountain kung fu academy. We also believed we could begin to have a deeper, philosophical understanding of Kungfu from a master who has vast knowledge of Kungfu. China has a long and proud tradition of Kungfu, we wanted to understand more about this 2000 years old heritage that integrates body, mind and spirit.
Our greatest gain was to train under my master . He provided us with encouragement, fatherly advice, fantastic technique and self belief. Master is passionate, firm yet gentle and brings out the best in our abilities. He helped us believe that we can achieve much more than what we initially believed we could.

Master was the most influential to both me and Metta. He provided us with mature, fair, firm and diligent guidance. We also enjoyed his sense of humor and compassionate smile.

Chikung Master provided a calm presence and a compassionate smile. We thank him for his patience in answering our questions. I would like to thank masters for his positive comments on Sanda and consistent encouragement. He took extra time to answer and questions I had and was patient with an encouraging, warm smile.We would like to thank master Yu for his compassionate smile every time he saw Metta and me.The cook women who served us our meals were very helpful in helping us feel welcome and at home. They were very gracious to us.
Interpreter Larry and Nancy were particularly helpful by showing patience, kindness and encouragement. They were always very enthusiastic to help.We understand the values of shanlin to be universal bring all nationalities together to achieve a higher purpose which is love and wisdom.We are particularly graceful to my Shaolin Meihua master , Chi kung,Master , master Yu, Larry and Nancy for contributing positively to our stay.
The surroundings of the academy are very beautiful, pristine lake, flowers, trees and fantastic mountains. The Chinese farmers have beautiful smiles as well and are very kind and respectful.
Highly recommend Kunyu mountain kung fu academy to All who want to study kung fu seriously.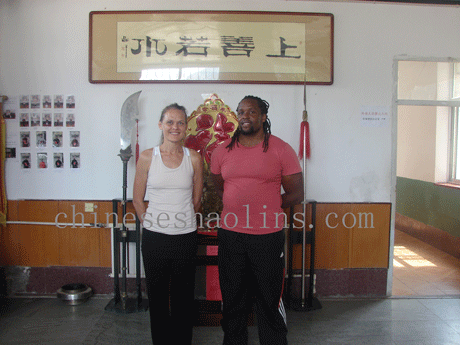 Mukulia and Metta