Four weeks course from July to Aug 2014.
Adam Shaw (UK)

I chose China to study KungFu in because I was extremely interested to learn more about the history and culture of the country.Although I was keen to learn some of the ancient Shaolin forms,I was mostly motivated by the level of fitness training that would be involved.
Except I learnt a lot shaolin kung fu,my greatest gain from the training is endurance,and the ability to "keep going",even when close to exhaustion.For the rest of my life,I will be able to hear the Shifu's words in my mind…..more faster more power!

My master was the influential.Not only did I learn the complex techniques from him,but he was also always concerned for the welfare of his students,and treated us like his family.The over all experience of the academy is an intense one with all the training,but also a great way to meet many like-minded people,and make plenty of new friends.The masters teach discipline to good fun,and helpful.

Another thing I will miss,is the surrounding landscape and mountains.They provide a great training base,and astoundingly beautiful views from the summits.Whether you want to learn some cuilfure ,improve your health and fitness,or simply escape from the world briefly…
Kunyu Mountain Martial Arts Acadamy is definitely the place to go.
Thanks!
Email:arpshaw@hotmail.com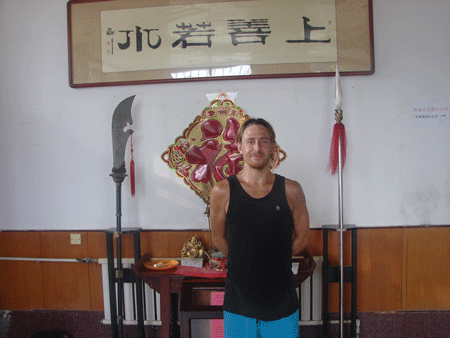 Four months course from April to Aug 2014.
Lucy (UK)

I always wanted to learn ShaoLin in China and to get fit and learn discipline is a great motivation.My overall fitness and stamina has improved dramatically and the massage class has been very interesting and helpful.

My master and fellow students have both influenced me and helped me during my training.And I studied a lot of Chinese shaolin kung fu, its application and sparring,The training is very hard,however rewarding when you feel improvement .Daily life at the school is good.Moreover the Masters are very influential and the translaters are extremely friendly and helpful.

The surrounding`s are beautiful , having easy access to the mountain and the lake is great for training and Yantai is a really nice city for visit during the weekends,I think the lake could be used more for training purposes and really boosts moral.