Five month training from Aug 2013 to Jan 2014 ( Wingchun&Baji&Taichi class )
Adan (Singapore)
To come to Kunyu martial arts academy,I learnt great experience and learn from the best. The fact that I can get stronger here motivated me. My greatest gain is strength. I was very weak when I came to China. But I am now tougher. I have also learnt a lot of mandarin here for which I am thankful for.
I made a lot of friends who pushed me to do my best always and trained hard with me. My wingchun master was a great master and he really helped me to train hard and be better.
I loved my experience here. I made so many friends with whom I spent time with and I had great masters who guided me. We trained everyday, even by ourselves in the weekends and so we improved. The translators were very nice and always helpful. I am thankful for their help always.
The surrounding of the school is great. The mountains are beautiful, the lake is great and the atmosphere is perfect. Yantai is a decent city and it is quite nice to go there in weekends.
Email:aduyean@gmail.com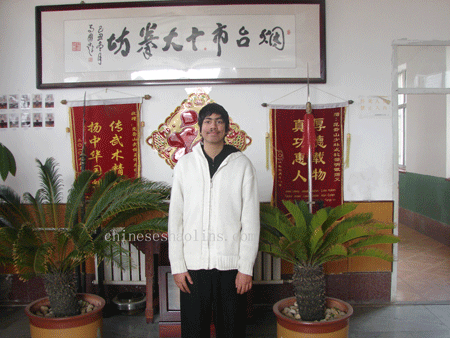 Sheldon (Canada)
Five months course from Oct 2013 to Feb 2014.
I chose to study Kung fu in china because I wanted to learn full time, and have as authentic Kung fu experience as possible.The confidence in me and in my training, it is as well as the flexibility and strength.
Master Guo and Gao and fellow students and class monitors
I learned a lot in life and my chosen martial art, met some amazing Shi fu, become friends with amazing students from all over the world, and now I am little sad to leave but excited to see what other amazing adventures are around the next course.I love working up in the mountains, such a peaceful positive atmosphere to train and live in. the school could not be better located.
Email : sheldondick@gmail.com