Six month study from Sep 2013 to Feb 2014

Ahmed (Egypt)

I wanted to train Kung Fu in its original and learn from highly experienced masters.
I've gained more experience in sanda fighting and learned how to spar with shaolin and wingchun style.I met great people in the academy, everyone helps each other be better, and the translators are very friendly and helpful.I was able to train in the shaolin temple sister school and kunyushan, both places are great for training and I had two great masters. Master Lu and master Liu, they both pushed me in becoming a better fighter and a better man.
Kunyushan's surroundings are beautiful; there is the mountain and temple. Yantai is a very clean city and it is very easy to get there with the school's transportation.
Email : ahmed.elseesy@live.com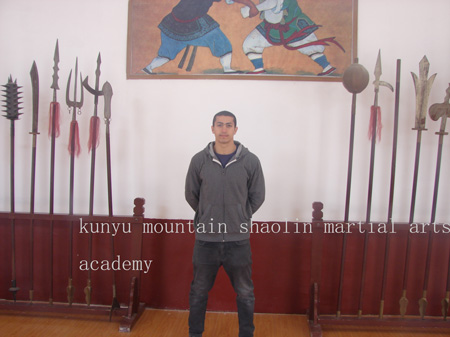 Training experiences at Kunyu mountain martial arts academy.
Diana (Mexico)
Wing Chun techniques and Sanda skills taught by masters of Kunyu mountain academy is great.

Many friends helped me on my stay here as well as the translators.Life here is very simple and peaceful. I loved the surroundings and the winter was cold outside but beautiful. It was been a nice time here and I will never forget the people I have met.