Two weeks course in April 2017 Year.
Dr.Andrea Marlière and Philipp (German)
For me (53 years) and my son Philipp (19 years) this stage was mainly motivated by curiosity about Kungfu, Chinese culture and a test, if he or me would like to stay longer in an academy such like Kunyu Mountain Traditional Shaolin Martial Arts Academy. We both like sports, travelling – hence we spent 2 weeks of our holidays here in this academy.
My greatest gains are :
_ getting back some physical strength
- learn about Chinese Culture & everyday living in an international environment
- have a "campus feeling" such as I had during my times at university

One major influencing factor were the other students, which are mostly very motivated, helpful and open minded. Regarding my Tai Chi training my master gave me the main input.
Training: I very much appreciated the early morning class from 6.00 – 7.00. Training sessions in Tai Chi were very good and we have been taught the forms very well by the master, I would have enjoyed more explanations regarding names, background, idea of the forms etc. My son Philipp was very happy with his Shaolin group with Master Monk.
Daily life: Daily life is very well organized and the schedule during the week has a good balance between training and leisure time.
Masters: As I was only here for two weeks it is difficult to have an opinion about the masters. Generally spoken they seem to be friendly and eager to teach their students and I liked my Tai Chi shifu personally.
Translators: On the one hand side all the translators did a great job and gave their very best. On the other hand side the quality of translation is key for successful training. I can only imagine how much the training would benefit from a better translation or English speaking masters.


I am very fond of the mountain landscape including the lakes, the temple etc. The surrounding clearly is one of the assets of this academy. During my two weeks stage I experienced 3- 4 days with severe smog. This is the maximum that would be acceptable. I liked my two trips to Muping, as I found it very interesting to watch Chinese every day life. Also the little village beside the academy is very pittoresque and the inhabitants are still very friendly towards the foreign students. I hope, this will last!
So, finally, I want to say "Thank you" for two very interesting and inspiring weeks in Kunyu Mountain Traditional Shaolin Martial Arts Academy! I wish you all the best for the future and hope to come back again!


Email:andrea@marliere.de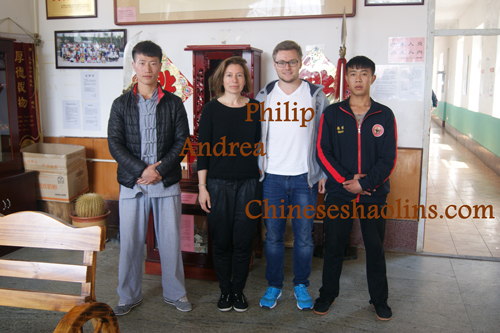 Dr.Andrea and her son Philip trained kung fu here.