Five months training from Sep 2014 to Jan 2015
Atzenhoffer Cedric (Belguim)

China is the birth place of Kungfu and I am interested by the traditional culture of china.I want to become more physically and mentally fit,then,I was in China kunyu mountain!
My greatest gain is from Sanda classes (Chinese kickboxing). And also, I gain my will.My Shifu, master Gao and also some students of my group like Jamal, Niels and Mario hleped me during my period in kunyu academy.

My experience at the academy was really positive. I gained a lot physically and mentally. I am really stronger and ready to challenge everything for my future.
The training was really intense and hard with My master. He pushed us to the limits all the time.He gives to us and shares with us all his energy. He finds all the time to find the best way to reach us his passion. He adapts his teaching to our culture.And another thing I appreciate here is when you arrived here you really feel like you have a new family. Everybody help you to feel good. The translators make good jokes and they are very friendly.The surrounding of the academy are really beautiful and favorable for a good training.
Email : catzenhoffer@hotmail.com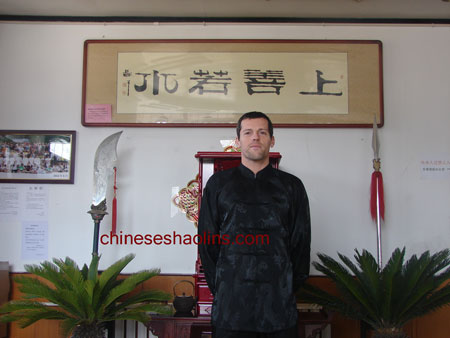 ---
Five months training from Sep 2014 to Jan 2015
Apolloner Mario (Austria)

It was the dream of my life to study in China Kungfu and now I complete my dream.
I was surprised how fast and good I learned the shaolin forms and applications. I will never see so beautiful forms.
At first my master and my shaolin group .we are like a family and help each other that give me power.The training was really hard but that's the right way to improve a lot. The shifus are really nice to our student and make also a good pressure in the training. The translators got to really good friends and they were every time here for me.
This country is really beautiful. In best season,everything was green and full of different flowers around the school. I wanted to say thank you to My master. I learned really a lot and I think I improved also in the 5 months as much as I can.
Thank you, I will never forget you.
Email : mapolloner@yahoo.com