One Year from Sep 2014 to Sep 2015


Geraldine Cesbron (French)

I choose China in the beginning for the Chinese massage. And all the Chinese doctors told us that if you want to improve your massage, you have to learn qi gong.
My experience in the academy after one year was amazing. It's why we found this school for the qigong first and practicing taichi after and learning bagua and shaolin was very interesting too.The greatest gain from my martial arts training is master's taichi and shaolin training . It was difficult is the beginning but very nice in the same time.

I didn't think that my body can support a lot of pain in the beginning and after was able to stay in different position and my mind able to learn a lot of forms. I realize that if you don't practice every day your form are forgetting very quickly. All the translators are very nice and kind.And they are the "bridge" between the master and the student. Without translator the master will can't teach us their knowledge. I really appreciate that the headmaster took time for us.His knowledge was very great and soft. He has the patience to teach and give his knowledge to others.
The mountain around the academy are very beautiful and they have a lot of energy in this place. The lake is very nice to swim on it during the summer.The food is fine, the cook did a lot of improvement until the beginning when I arrived.I really enjoyed my time here, kunyu shan is like a big family. I meet a lot of good people.
Thanks and see you tomorrow.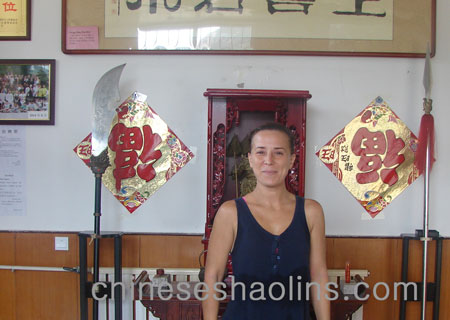 Geraldine spent one year to learn kung fu in kunyu mountain school.