Three month course from March to June 2017
Chereau Christine (France)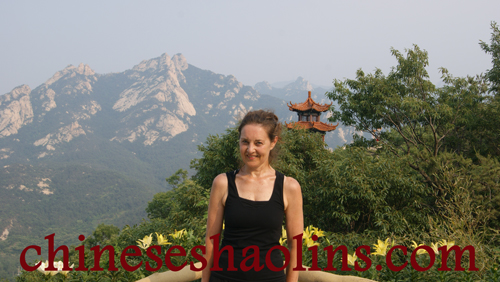 Chereau spent three month training course in Kunyu mountain.
For me to choose China,because of the History of Chinese kung fu.And the choice of Kunyu mountain shaolin school for the the combination between external and intern moves.the place, the variety of martial art, the remarks from others students, my friend recommendation.
My greatest gain from the martial arts training in the school: practicing the training all days, participate to the international competition, do the grading. Go to the massage class and practice.
Who influenced and helped you :Sanjay and Phi in our group, all the person in general , Master of massage, the translator, my Shifu Master Sun
Summary : Nice to have a full time Master of massage in the school, after training it's very important thank you to his availability
During my period here , I appreciate :
- The simplicity of the life ( take only what I nead), no sophistication, just the essential ( the main thing)l,
- Every day you do your best to improve yourself ( you are with a lot of people who just want to help you and you can improve your confidence
- Sharing ( your life,knowledge) with respect
What I think about the surroundings of the academy : pleasant and nice, nice to be outside the city, near the mountain and the temple, near the nature, Yantai city is nice too.
Email : cc123@orange.fr