Six month course from Oct 2015 to April 2016
Florian De Smet (Belgium )
I chose to come to China to study Kung-fu mostly to learn about the Chinese Culture, a new way of living, and mostly to learn about myself. And if I can, get in shape in the same time!
I had absolutely no experience in martial art before, but the idea of training his body all day to improve his own way of thinking, his spirit and his mind was an idea who seduced me. First you need to train your body to understand it, and then you can start to understand your mind.
I also chose to come to China to train to be able to stay away of all the eastern ways, thoughts and everything that is in your way to be able to completely focus on your training.
My greatest gain from my martial arts training is the way of thinking that my Shifu, Shifu Gao, taught me, taught all of us. He once said that even if everything seemed to be dark, there is always a small light in every moment. And we need to focus on that small, positive light instead of being drowned in the darkness around it. Because there is always something positive in everything, we just need to find it.I will never forget what he said, because it changed something huge in my mind and, even if it is sometimes really hard, I will always try to think and live that way. And I gained a lot physically and mentally after 6 months of training here. I can do some exercises I couldn't think about before.
During my stay and my training, everyone in the academy helped me and influenced me. In the training or in the daily life, everyone has something to teach to the others. Of course my Shifu, Shifu Gao, helped me and influenced me the most, by offering us an amazing training every day, by always pushing us forward and motivating us, by giving us good advice, by being an example for all of us, and much more.And I had the chance to train with the best group of the academy. People always eager to train, ready to motivate you even if you're feeling a little bit down, having an awesome kung-fu spirit,...
The training with all of these members was like a dream, and every day was a pleasure to meet and train with them.
I couldn't thank them all enough for what they offered me in every aspects of my life during my stay. Even though in the beginning the training is really hard (and so are the mattress), after two weeks we start getting used to it and we can finally enjoy our period in the academy. The training takes place all day, and we have the possibility to join the optional classes like Taiji, Qi Gong... And for those who are really motivated we still have so free time to train on our own.
The translators are all really friendly and they don't hesitate to help us if we have a problem. They make the life in China a lot easier for us. Big thanks to all of them!And the masters are really friendly and experts in what they are doing. We have the amazing chance to train under amazing masters here and they don't hesitate to help you if you need or a friendly reminder for your form.
The surroundings are really nice if you like the mountains. You can see the mountains everywhere from the academy, and there are really nice places to take a walk during your free time.
There is not a lot to do around the academy but if you need something special, you can always go to the city.The air in Kunyu Mountain is really pure (much more than in the big cities), that's a real pleasure.
Kunyu Mountain is a really nice place to learn Kung-Fu.
Thank you for everything, my period here was amazing, I learned a lot and I will never forget anyone and anything I got the chance to meet and learn here.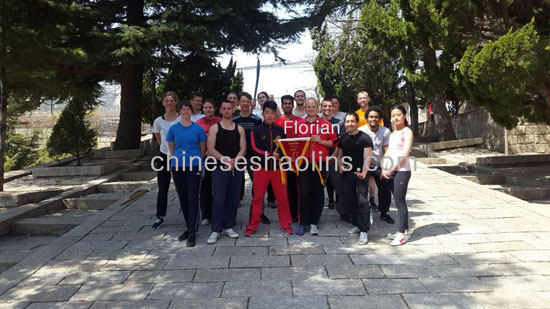 Daily photo in school Yard-This shaolin group with two professional
Chinese shaolin masters.