Training experiences From Kunyu Mountain

Yann MARIELLE-TREHOUART (France)
Three Years course till 2017 March
For as long as I can remember, Martial Art has always been a passion. As I was living in a small village in France I didn't have the opportunity to learn and practice martial art at that time. But coming to China and train Chinese Kung Fu has always been my biggest dream. My early talent for snowboarding drove me further away from achieving this dream. As I joined the French team, any other practice than snowboarding became impossible. From here on, every single moment in my life was dedicated to my art. Training every day, every week. On weekends, during holidays. All my time spent to achieve one goal. Growing stronger and becoming the best. This intensive training taught me discipline, hard work, and it taught me that if we set our mind on something, everything can be achieved. But I was missing something. As I was reaching the highest summits of my discipline, the lack of philosophy and spiritual values in such a high level of practice started to bother me.
After five years spent competing in high level international tournaments of Snowboarding, a great number of serious injuries put an end to my career. And what seemed to be horrible news at that time, as I had to watch everything I built, everything I worked for, collapse in front of my eyes, turned out to be a positive and life changing opportunity. After spending most of my life focusing on my physical abilities, it was time for me to work on my mind. I spent the next 6 years studying various major at the university and working for different companies. A brilliant and successful business career was ahead of me. But the closer I got to the idealistic westerner way of life, the more I felt disconnected with that same society. After a few misfortunes, and as I was uncomfortable in this superficial life, feeling trapped in an ego-centered world, I realized it was time for me to fulfill my long lost dream and I decided to come to KunYu Mountain Shaolin Kung fu academy China.
In Kunyu mountain academy, I had the immense privilege to meet and learn from Master Guo. His patience and kindness helped me feel and achieve things I couldn't even think possible. But not just the way he treated me, it was the way he treated all the other student that stunted me the most. No matter the student, no matter his motivation, Master would help him fulfill his Gong Fu dream as he helped so many other students before. Guiding them in having healthier lives and in becoming better persons. Martial Art is about patience, dedication, perseverance, control, humility and acceptance. To me, Master Guo embodies every single part of it. I spent a year and a half training under my Master. And not a single day went by without me acknowledging the chance I have to practice with such a great teacher. Master Guo and his Gong fu represent everything I believe in. This is why today I vow to spend the rest of my life following his guidance. Learning, mastering and teaching his Art and Philosophy.
I will work hard. Harder and harder every day in order to become stronger. To become an accomplished martial artist, but moreover, to become an accomplished man. Always thriving on becoming a better person. I came to kunyu Mountain looking for something. Searching for myself. But what I found here was more than anything I had expected. More than techniques or physical strength. More than a place to grow mentally. More than friends. What I found here was a family. And it is for me today the greatest honor to be officially recognized among this family. Accepted as a member of Master Guo's lineage.
Thank you from the bottom of my heart.
Email:marieelleyann@gmail.com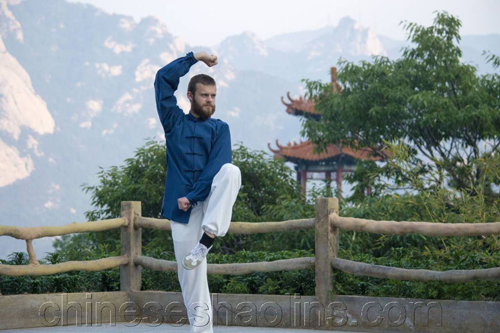 Yann trained Kung fu here In KunYu Mountain.