Doga Baktir (USA) One Year Course till March 2020
1.Why do you choose China to study traditional kung fu?What motivated you to join ?
Recently before I arrived at Kunyu mountain academy, I was fascinated by the philosophical emphasis and discipline of Kung Fu.
2.What is your greatest gain from the training here?
I began to value more forms of physical and mental fitness such as flexibility, agility and meditation through the training here.
3.Who influenced and help you during the time here?
The masters and a lot of other students,especially Master Sun,helped me a lot.The training is good. If you want to improve quickly, you really have to use your free time to continue training. All of the staff have been very professional.
The village and surrounding area are very peaceful and don't distract from training. You can find mostly everything you need in Muping district or Yantai city.
Email: dbaktir@gmail.com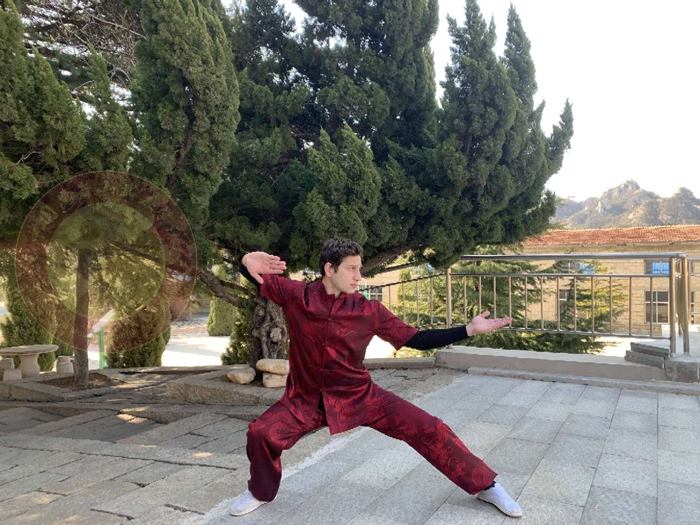 Doga spent One Year Shaolin Kung fu course in Kunyu academy.
---
Noah Faiek Embors El Saadani (Denmark) (Six months course till Feb 2020 )
I wanted to study martial arts in a martial arts environment,that's why I am here.Getting to learn more martial arts forms in the training here.
David definitely, especially in sanda training,help me a lot. It was impressive to see how we could put such little effort into a punch and kick and have it contain a lot power. Because he understood the technique very well.
The experience was very enjoyable and people were very welcoming and friendly and master were very instructive and supportive. Perhaps for improvement, improve internet somehow to make contact with family members more convenient.The surroundings of the academy are very beautiful and really inspire you every morning and make you fell like you are in a special place.
Email:elsaadaninoah@hotmail.com