Forty days training from April to May 2015

Duncan Mathews (Ireland ) (Returning student)
My excellent experiences when I was here in 2012,then,I come back again in 2015.The Chinese martial arts training here provides a lot of physical gain, flexibility, coordination and so on. As well as being a lot of fun.My friends and roommates and of course, the masters offered a lot of help to me.
Coming back to Kunyu academy was extremely nostalgic. And I came back for a reason. The training is, as always, challenging but above all rewarding. Despite staying for a shorter amount of time then I would like I will still be leaving with a sense of satisfaction. Daily life is good, as is the food. The masters are attractive, concerning with any problems and unbelievably skilled themselves of course. The translators are excellent and really lovely people.
The surrounding around the academy is gorgeous. It is nice to see so much green in the summer and despite it being rather tired if you push yourself. One always looks forward to the mountain run on Friday afternoon down to the shear beauty around the temple and Yanxia cave.
Also, for China, you won't find better air quality this close to a city.
Email : duncan@shanbolard.com



One month course in May 2015

Daniel Alstrup (Denmark) (returning student)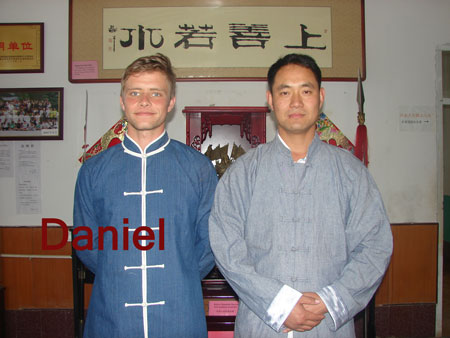 This is my second time in Kunyu mountain shaolin academy and I wouldn't go anywhere else.I got the general improvement of my understanding of Kungfu.Master Gao is my main inspiration but Shaolin Master sun was a big part of this stay as well! Thanks a lot to both.
I love the training here! That's why I came back.
The authentic surroundings are really nice even though a lot is different from last time. Yantai city is nice for the weekend but we only went once.

Thank you all!!
Email:Daniel_alstrup@hotmail.com