One Year course from May 2015 to May 2016
Eldad Jaeger (Israel)
I choose Chinese because it is the birthplace of kung fu and all the best masters are here,then,I was in traditional Kunyu mountain shaolin martial arts academy.
My greatest gain here is the variety of different kinds of martial arts that really "upgraded" my knowledge of traditional martial arts and Chinese culture.

My biggest influence was my two monitors Loc and Ariel and all my friends and masters here, especially for master Guo.
My daily life here in kunyu was just amazing, a combination of hard and effective practice that push you beyond your limits with a friendly environment that feels just like family. The things that I have learnt here changed me to be a person and a martial artist like I have never expected before.
Coming here was the best things I have ever done and I am leaving with tears in my eyes.
The surroundings here is really amazing and beautifully. All the stuff crew here is super professional and every second here was pleasure. Thank you all.
Email : jaegereldad@gmail.com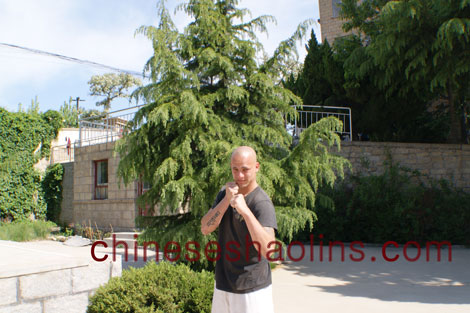 Eldad spent whole year to learn Wing chun and other kung fu styles here.