Gleb trained one Year course in 2014.And this year,he come back for two months training with his master.
I came back to China to study Kung Fu in order to continue training with my Shifu at Kunyu mountain shaolin academy.(Shifu in Chinese mean Master).Being away from a full time training environment such as this, felt unnatural to me,I felt like something was missing.
My greatest influence in the academy, and the greatest reason for my return is Master Gao. His abilities have guided me in my martial arts journey and my own personal growth as a human being. I would also like to thank the rest of the masters and the translators for making my second stay pleasant and memorable. Them, along with the beautiful surroundings and the friendly village folk make Kunyu Shan Martial Arts Academy feel like home.
Email :

zverev.gleb@outlook.com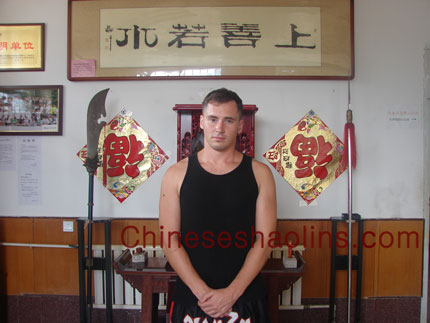 My good friend Daniel told me about studying in kunyu mountain, it sounded like a good opportunity to see and meet a new culture.
My greatest gain from being here is trying to spar/fight in the ring and learning martial arts. It has given me a lot more respect for the art of fighting and doing martial arts, another thing I have learned knows a lot more about my own strength and physical state.
During my stay here both master Gao and master Sun has been a big influence but also my good friend Daniel has helped me a lot. Many of students are very kind and helpful and they always ready to give you a hand if you need it.
In the beginning it was very hard but after 2 weeks I got used the discipline and the training. The training is very good its hard and you get to push you limits both physically and mentally. Besides the training the social life in the school has been great, I've gained a lot of the new friends from all over the world, the masters are great and they push your limits but they still care a lot about your health and well being. Everyone at this school is very helpful and the translators are doing a great job.
I like the surroundings it's very beautiful and it's a very nice to look and look at the mountains, they city is near and easy to get so you are allow to reach of anything you need.
Thank you so much for the great experience, hope to come back soon.
Email:

magnusvjeuseu@gmail.com