Three months Course from Jan to April 2015
Vincent Sautron (France)

I chose China to study kunfu because for me kungfu belongs to China. I was motivated by my love for martial arts, and I was strong but I wanted to improve it.
My greatest gains are that I learnt shaolin and how to use my strength , I got better technics, got stronger, and more flexible.Everybody here helped me during my period in the academy, the people in and out of my group, the translators and the best one : my Master. ( Special thanks to him).
This experience will stay in my memory for the rest of my life. I won't forget anybody that I met here. This school is awesome.I loved to live around the mountains, waking up every morning to train hard. For me my group was the best group, I remember : "One dream, one team". For sure , here, was one the experience of my life. I hope to come back here and train again with my Master .Special thanks as well to translators for translating everyday what master was saying.

Muping town of Yantai(small town we located)was also nice, I really enjoyed the street market there.About the surrounding of the academy : being surrounded by lakes and mountains and having hot water for my shower is all i need for a beautiful life.
THANK YOU KUNYU Mountain FOR EVERYTHING, I HOPE TO SEE YOU AGAIN SOON
Email: vince_46@msn.com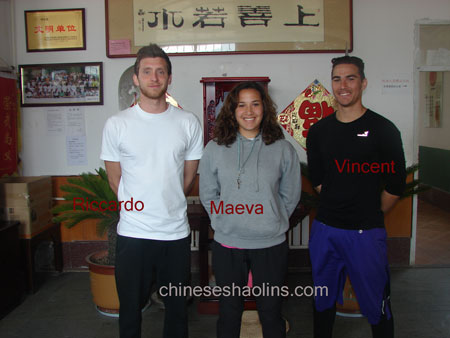 The group of three trained here in winter for three months.
Sandra Maeva Sautron (France)

I chose China because I was attracted by its traditions. Also, it is the country of kung fu. I was motivated by the challenge and authenticity.I learnt a lot shaolin kung fu and gained mental and physical strength, flexibility and power.The people of my group as well as students from other groups, and my Master .
I met some amazing people. The whole team ( students, transltors, kitchen staff, maintenance staff and masters) gave us a warm welcoming, and we felt good throughout our stay. The training is tough but everyone pushed us to do better especially masters.The schedule is well adjusted. I enjoyed every bit of that experience.The working staff was very helpful.The surrounding is calm and quite. The mountains and lakes are peaceful. It is a good environment to be face to face with yourself.
Yantai is good for its seaside, bathhouses and social life.
Email:maeva_sautron@hotmail.fr
RICCARDO LUCHETTI (Italy )

I chose China because it's the mother of kung fu and also because Kathy was really helpful in her mails.My gains are:strong mentality,better coordination for my movements and new skills for basics and kung fu forms.Everyone in my old group. They were really helping and supporting me. My master pushed me when i needed it and believed in me and in my potential.My experience was great. The training during winter time wasn't easy,but i didn't give up. The training schedule is well done, the masters are well prepared for europeans: flexible when necessary and not when you must train! My shi fu tought us how to approach martial art in the best way: tough methods and determination. That is the way to learn fast and to be strong at the same time. The translators are really nice people and always helpful.The surrounding is beautiful,as montains and the lakes. Yantai is a nice city and i guess during summer would be even better because of the beaches and the sun.
Email:luchettiriccardo@libero.it