The Summer Review from Hue Family from July 2017 to Aug 2017:
I would like to thank you in helping me arrange my stay at Kunyu academy booking was easy.Thank you.
I Joseph Hue aged 61 took my children, senior daughter 18, Jen 16 and Junior 9 to Kunyu Mountain Martial Arts Academy, it turned out to be a very good decision.For myself and my children. Junior 9 loved it, he made lots of new friends and lost kilos after too much VDO games back home in Thailand ,this was perfect physical action for a nine year old.Junior learned Shaolin kung fu form with Master Shi Yan Po.
Paveen, Jen and i learned Thi Chi with Master Wang. He is an excellent Tai Chi Teacher, you see this in every move he makes. Great Motivation is gained just by looking at all the students and Masters.
The Kun yu Mountain Martial Arts Academy is situated in a nice peaceful village the accommodation at Kun Yu was very good.All in all and amazing one month with nice friendly people.
After one month at Kun Yu Mountain school we were all wishing for more.My Best wishes and Respect to all the Staff. Masters , Translators, and Cooks.
Kind Regards Hue Family ( Thailand)
Email :

joe@similan-diving-safaris.com
Similan Diving Safaris Co. Ltd.,
13/19 Moo 7, Khao Lak, Kukkak, Takuapa,
Phang-Nga 82190, Thailand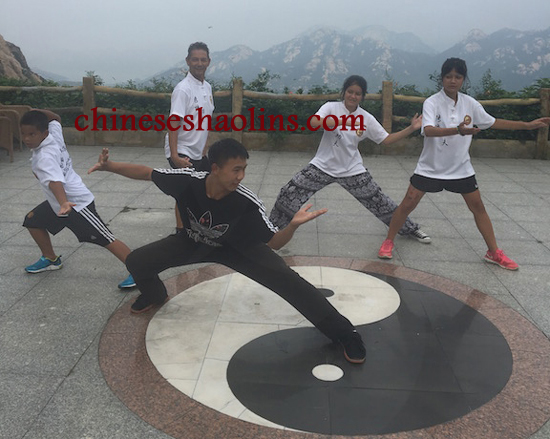 Hue Family with three kids training kung fu with us in Kunyu mountain, birthplace of Taoism