Kunyu mountain shaolin school Reviews
Nine months from Sep 2013 to June 2014
Ian Owen (UK)

What motivates me to go China kunyu academy is: I want to learn, and I had to give 100% to my training, make everyday count.I can now punch due to my Sanda training with my kickboxing master. Now I believe I have explosive power, enough for a K.O.My main influence was my master. I believe that you have to first show respect to gain respect from others. I respected my master and always listened to his guidance. Other influences were friends and training partners who help to push each other along.
I came to Kunyu with no real previous martial arts experience. During my time here I have learned a lot about myself and how to train the body and mind. I have been doing sports all my life but I have never trained like I have here in China. I am very flexible now, compared with when I arrived but I still have to stretch hard. Power stretching was amazing, I never ever stretched like this before…..it was crazy. Power training was also crazing hard most times, I will train like this in the future. Sanda with Shifu Gao was crazy, I loved it! that is why I joined his group .
I am really happy I joined my master's class. I have made some very good improvements and have really enjoyed the experience of training under him. Thank you master. I wish you all the best and success in the future. All the students have been very respectable during my time here. The translators have always been very helpful and I wish them good luck for the future. Daily life was fine.The mountains and lakes here are beautiful. My master was a good by taking up to the temple for Qigong and conditioning.
Thank you, everybody enjoyed this.
Email:i.owen3@hotmail.co.uk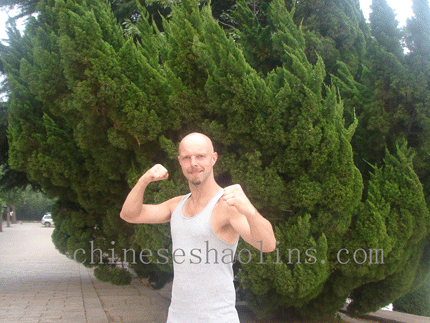 Two months course till June in 2014.
Tom philippe (Belgium) Returning students
Third time to come here.

This is the third time I return to kunyu mountain kung fu academy.I got good Structure and perseverance in daily life.And new abilities in Kungfu, better contact with people.I enjoyed very much the training here.People are nice, master and working staff also!I met my first master here; he'll always be in my heart. I'm thankful to the school for that and to him for everything he teaches me.Locations are awesome, mountains are beautiful!!The lakes are perfect to take a swim in the summer!

Words to my master:Thank you for everything the master teaches me.On Kungfu and as a human being as well.I'm sure we will meet again and I hope it won't be in a too long time !Go on teaching, you are really good at it!
Email:tomphilippe1@gmail.com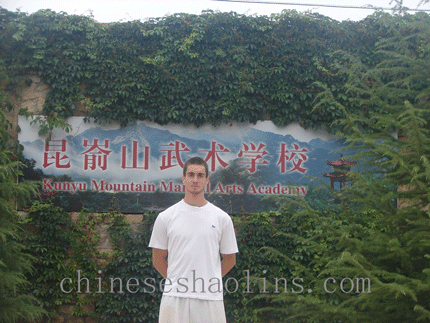 It is the third time for Tom to train kung fu here.