(Three weeks course From Sep to Oct 2016)
Kerr Danny (Canada)
A couple of friends had been studying Kung Fu in Canada for a few years, we studied some history of China and Kung Fu. We thought it would be a great experience to travel to China to experience the culture of Kung Fu training from source. I have been training 7 stars Praying Mantis at home and once I learned that Praying Mantis originated in Shandong province and the school offered the Praying Mantis style, my decision to come to Kunyu Mountain Shaolin academy was made.
I really enjoyed the structure of the day and week, but I liked seeing/learing a different interpretation of Mantis Kung Fu and how it differs and similarities to the style I trained at home.
Master Sun was great, very professional but at the same time very caring in the way he treated all the students. He was always able to make it clear what the exceptions were. Beside the Master an his translators, the other students were great, helpful and understanding. A big benefit.
I found the structure of each day and of the week very well balanced between hard workouts, breaks, meals, optional training and downtimes. The students really helped everyone have good experiences on the weekends, everyone was also invited and I never felt exuded from anything. Really enjoyed my after lunch nap each day.
The surroundings about the school are magnificent, the mountains/valleys and the dams and lagoons are beautiful. We had the opportunity to climb/run/hike to the temple to see the views and learn about the local history and feel the culture. We also took an opportunity to walk to the summit of Kunyu mount which was wonderful; we went on our own during the weekend, to took in all the sites, opportunities to many pictures and memorable experiences.
I'd like to say thank you to all the staff, translators and Masters for providing the opportunity, I will treasure this experience and I will speak of Kunyu Mountain Martial Arts Academy for rest of my life. Thank you it is sad to be leaving.
Email :Kerrdann@gmail.com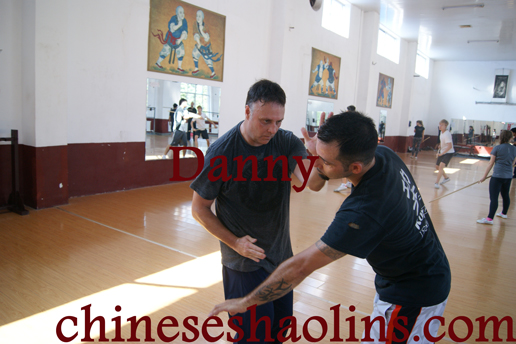 Danny trained the pray mantis application.