Five month course from Feb to July 2017
Marine Cosseron de Villenoisy (French)
I choose China to study Martial Arts because this is where it was created and I wanted to go to the source to get a better taste and experience of it. It started as a simple idea and became a dream that took me 3 years to accomplish because of other choices I had to make before coming here in China. I have absolutely no regret of leaving everything I had to come here.
The training in Kunyu mountain kung fu academy helped me to know more about myself, push my limits further get in better shape inside and out, I feel more confident with myself, it is challenging mostly the sparing on Fridays I really hated it that's why I pushed myself more and now it feels much better than the first time. You go through pain sweat and tears but it's totally worth the gain at the end. Optional classes, I always went to the Taichi every morning its great Taichi is very different than the Wing chun I study and I love my Shifu(Master), Shifu Guo even though I was intimidated at first he's a kind and patient Master and more than anything he is really passionate about what he is doing.
I tried the Mandarin Class,they do their best but teaching is a difficult task. I went to QiGong class at first and then stop either by laziness I would say or by the fact I was feeling tired after the whole day training since 6:00 am maybe both.
Many people helped my during my journey in Kunyu mountain Academy, first of all the students were really nice and welcoming to me since the beginning, I made great friends here that I hope to see again.Coach Ariel also helped me a lot for my first steps he's way of teaching worked great for me combining theory and application (it's hard for me to a move in the air without knowing how to use it for real). The wingchun group became one again lead by Shifu Guo, as I already said above he is a very good shifu a really enjoy training with him. Loc became coach and helped me as well he is always willing to help if needed. And to name them older students helped me as Clement, Yann, Alex, Pedram and Dann.
My 5 months training went well the training g was really hard at first then Became used to it, not saying it was easy I was struggling much less for the exercises I learned how to use my body for martial arts. My daily life was waking up early for tai chi I even did extra training for 3 weeks before tai chi with Loc, Phi and Pedram it was motivating then breakfast training all day and chill out at the end of the day sometimes on my own sometimes with friends. The translators Susan and Maggie helped me a lot as well to communicate with the shifu and to find my way around. Shifu Sue (massage shifu) is very good as a teacher and as a masseur I got few massages with him I have to admit Chinese massages isn't made to be relaxing but healing so it's quiet painful sometimes but he help me with my back and knee pain.
The surroundings of the academy is really nice its beautiful and quiet too bad the lake was try I would have enjoy it as the weather became warmer, Yantai is a big city and it's nice to change scenery to have a break from kunyu Mountain and Muping. Mainly for the food :)
Email :cdvmarine@gmail.com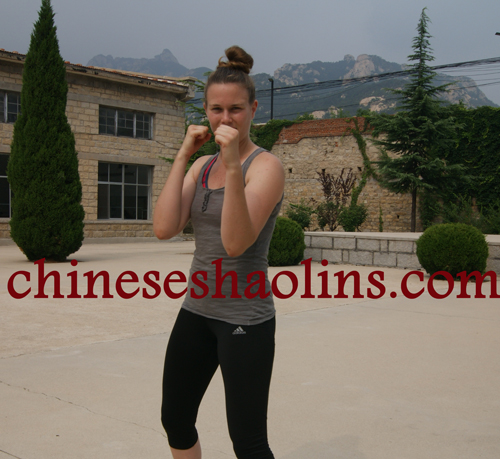 Marine trained here for Five months.