Three months course from June to Sep

Mathias (French)

I chose to study Kung Fu in China kunyu moutanin, because I wanted something really traditional, not an occidental way of practicing Kung Fu.I studied a lot shaolin kung fu and application here,and increased a lot for my body,motivation and my discipline.I got influenced by all good students who have all really great skills, and also by so high level of every masters here. My master helped me here a lot and all my training partners too.Everything was great, the training is really hard but incredibly good, I loved it. The daily life are good and all school staff were also really good people. Translators and masters were really awesome and respectable, helpful. I'm glad I met them.
Everything was perfect for training and relaxing.

Email:mathias.guez@orange.fr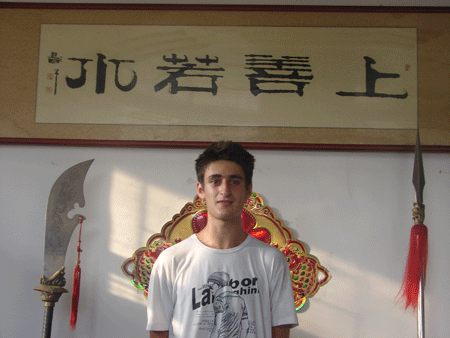 Lauren Prizeman (UK) One month in summer course in Aug 2014
I've always been interested in the Chinese culture so I wanted to came here to explore and studu traditional Kungfu as opposed to a westernized version.

I've always been very unfit .however through training here at Kunyu I've achieved things which I never thought would have been possible for me and I now intend to carry on with my training when I get home as I have loved it so much. In addition through attending the optional mandarin class I now intend to study mandarin at home as it is a very interesting language.First,of course my master has influenced me in my training as he has made me want to get to a higher standard . Secondly my fellows students have influenced me as they have all been very supportive and caring. I have made some great friends here.

I have loved my experience in the academy, it's so different to what I expected! There are clear rules to obey however there is a family-like atmosphere so I feel very comfortable with been very intense however I have very much enjoyed it. The only suggestion I would make would be to change the breakfast food as it is very plain and boring.

The surrounding area is incredibly beautiful, I will miss it very much. My favorite place is the lake as it's so good to swim in. The air is very clean. It's nice when you've been in Beijing for a week then you get to experience the clean air here.
Email:laurenprizeman@gmail.com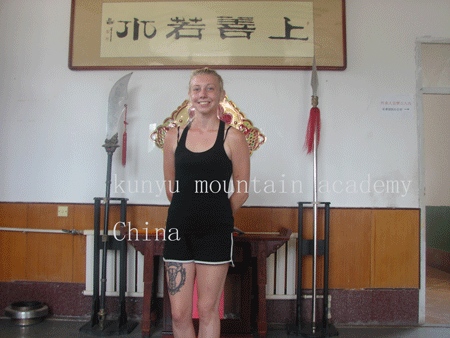 Vakvounis Mickael (From France)
Because China is the best for study Kungfu. Try to improve my physical conditioning, because I like Kungfu since I was young.
My progress are lost some weight, my stamina is better. I improve my fighting skills thanks for the Sanda class and Shaolin kung fu class.The training is very hard but very complete to become the best. The daily life is quiet and the students are nice and the working staff is also great but the food was not very good. The masters and the translators are very good and very nice.

The surrounding are very nice and quiet, it's good environment for training and there are no pollution. Yantai city is very interesting.
I spent a very good month here, I will come back next year if I have time. I want to thank everybody here at the school specialy my master for the good training he gave me and my group for the help they gave me.