One year and one half from Feb 2016 to March
Morais Carneiro Patricia (Portugual)

I spent more than one year in Kunyu academy,and I was always very interested in Chinese culture as well as language, so when I decided to take some time off to practice martial art full-time, China was my first option.

I have learned a lot during my experience here, not only in forms and applications but also mentally and how to train your body to be strong. I often struggled with lack of motivation but my time here taught me to battle through it and keep on pushing it. I learned the amazing things that our bodies are capable to endure and I have also gained a good range of friends and memories that I will cherish.

In the Wingchun group, excellent students and monitors were my biggest support, always trying to make me improve, and to push myself further.The facilities at the academy are nicely comfortable,and the routine and training was very satisfactory and shifus very helpful, I just wished that it would have been possible to have more one on one training when doing applications rather than doing so many lines. Shifus are very concerned with the well being of their students, and I had a good time here and I have gained a lot from this experience.

Kunyu Mountain is surrounded by beautiful mountains and a lake that you can go swimming in the summer. Near the school there is a little restaurant where students gather to have a little get together and some nice food. On weekends, the excursions pretty much leads us to either the little village in Muping, a quiet place for coffee, some groceries shopping or kungfu clothes shopping; or Yantai, the city, where you can find everything that a big city has, like burgers, bars, cinemas, game centres, and restaurants.
Thank you!
Email: pat27_morais@hotmail.com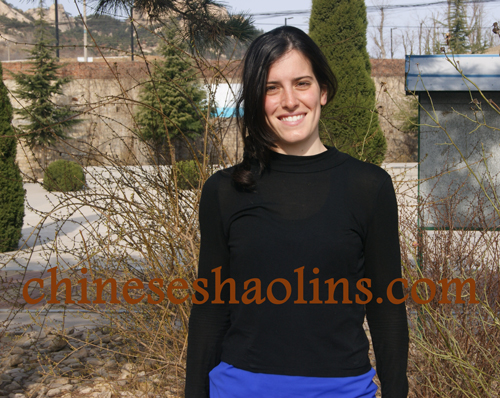 Morais Patricia Trained wing chun and Chi kung for more than one year here in Kunyu mountain.