One year course from 2013 to April 2014

Hello, my name is Nick and I'm 24 years old. I'm from Holland and decided to train Shaolin Kungfu in China for one year . Back home I've always trained a lot in all sorts of sports and to experience a whole new life I thought that is a nice challenge to see how much I physically and mentally can take. Also I'm a physical education teacher, so every thing I've learned here I can use it in my work too. After training here for 1 year I can say that I became stronger, more flexible, more driven to work hard and enjoy all the things that I've reached here. From learning cool forms to even succeed a good kick or punch. To reach a goal you need to work on the small details, and in the end you'll be proud of yourself.

My greatest gains are also that I learned a lot about Chinese teaching, respect for your Shifu, work hard, and help each other like you want to be helped. And all the hard training there has to be space and time for fun too.
Most of the training time you train yourself or with other students. master helps and corrects you. So when Shifu teaches you something, pay more attention and don't forget the details. And keep repeating the basics that helped me a lot. In the beginning the days seems very long and hard, but after 2 weeks you'll get used to the new life style. Basically it becomes: train hard, rest on sleep, and eat enough to restore everyday for the next training.

Sometimes you get a little bored of the daily schedule, but there are always things you can do. The school has a little shop, there are some nice restaurants, the mountain area is great and the other students are like you: they came with the same mindset, willing to work hard and helpful when you're training. Once in a while I went to Muping district or Yantai city to go out or just for some nice street foot /some fruits. It's easy to get there and it's good to see more places than just the school area. Enjoy your time here and make it worth remembering.
Email:nickmensink19@hotmail.com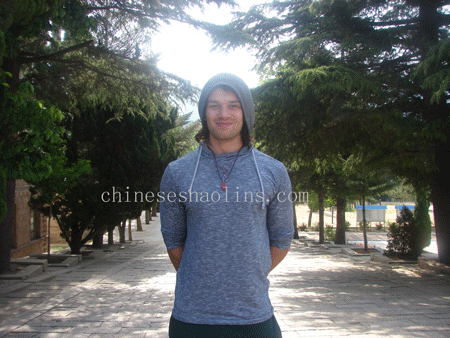 Six month training from Oct 2013 to April 2014
D-J Callan (UK)

Because I wanted to learn gong fu where it originated from,then,I came to China Kunyu mountain shaolin kung fu academy to study.
My greatest gain is learning to relax and clear my mind.
Both my masters influenced and helped me in the academy as they pushed me to get the best out of me.

My experience was good I really enjoyed training. Shifus (Masters) were patient when teaching me. It was really hard training but made me stronger and a better person. Translators are nice and helpful.
I like the mountains and lake.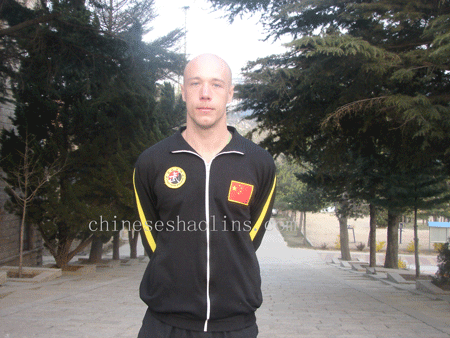 DJ spent six month to train here.