Two months course from March 1 to end of April 2016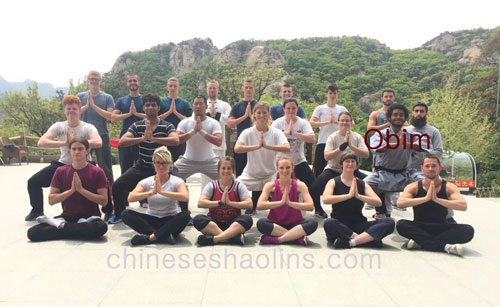 The birthplace of kung fu is china, and as long as I can remember I've always wanted to come here and learn real kungfu. It is my biggest childhood dream.
In Kunyu mountain academy,I learnt a lot kung fu styles and gained flexibility, speed and discipline. My stamina and endurance had also increased greatly.Most of the students are really helpful and will always give you a helping hand. Most helpful was Master Gao with strong leadership and powerful motivation, that made all of it a great learning experience.
The school Will test you and push you to become more than you are. When I came here I wanted a challenge and both the students and the sifus pushed me to do that. The translators at the school are really good and will always make you smile.
The surroundings are really beautiful and definitely amazing during spring. It totally gives you the right kungfu vibes.
Five months course from Oct 2015 to March 2016
Marisol Damian Castro (Mexico)
I have always been really interested in martial arts and I practiced some of it before, but I was looking for the real kung fu experience which I think it only can be found in China.
I think that besides all the pain the hard work has given me a strong mind which I hope it will help me in my future life.
I believe that the person who influenced me the most was my masters who teach me not only kung fu but a lot of important lessons that make me value life more.I have learnt from him that I can always can bear more pain that I could ever imagine, that the human body is capable of doing the most incredible things, that I can always be faster and stronger, that I should be more grateful; respect, confidence, passion for everything; to try harder no matter if something is not going the way we want to, but over all to be happy and to face every situation with the spirit of a true martial artist.
I loved mainly the heart of traditional shaolin kung fu such as forms and basics so it would be good to have the opportunity to have more time to practice them during the week.
About the masters I am completely satisfied with their work, I think that they are really good at what they do and also are always willing to teach step by step what the student need.About the translators, they do a pretty good job; they are always trying their best to help during the training and also during their free time.It is a nice and calm place, which makes easy to meditate or train at any time of the day.
Email: mary_dc14@hotmail.com