One year training from Aug 2013 to Aug 2014
Oleg ( Ukraine )

I choose china because the dreams should come true, and also, by my opinion, the best place to study martial arts is the place where it was born. Going to Kunyu mountain Shaolin Martial Arts Academy,I have learned so much martial arts and was able to do so many things.
And for all that, I should say " thank you". For my two wing chun masters and for all students from academy, because almost everyone of them make influence on my training and special " thanks" for my older Kungfu brothers Humberto, Alexis, Mario and younger brothers Ariel, Charli,and Felix,etc.

Special thanks for making my life easier in china for our translators. They all did a great job and was a good friends. Thanks to all masters for being patient with us and inspire everyone train harder.

And finally Kunyu mountain is perfect place for training and self- improvement. Mountains, lake, clean air and good climate is making training more interesting and complete. In the nearest city you can find any thing you may need, and also can always get from internet shop.I wish everyone have long, healthy life. For masters deserving students.
Email:Stepler84.05@gmail.com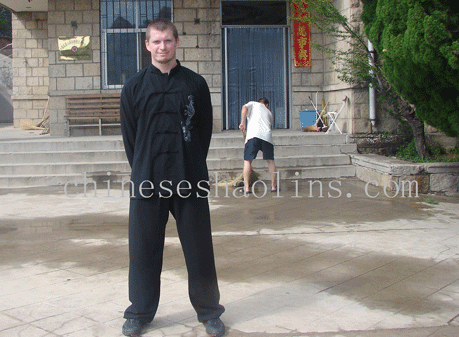 -------------------------------------------------------------------
One month in Aug 2014

Michael (USA)

I thought that living in China, in the mountains, in a school would be more of a life experience than if I studied Kungfu at a school in New York. I was right.
An understanding that to achieve and progress, we must concentrate our minds and give effort. Massage therapy was amazing and master is great.
My master was a great influence to me. He is respectable and humble and I realized that I should be kind to all people just like how I and kind to master.I encouraged myself to train by reminding myself that I am making great improvements to my health. As I progressed in my training, I became more encouraged and had a better attitude about my training. the translators are very flexible and helpful, I think the masters are also friendly and helpful.