Nine month coures from Jan to September 2017
(Returned again in 2019 For another One Year course)
China is the birth place of martial arts and it is a place every martial artist in the world should go to learn and experience the origins of martial arts came about, as well as the traditions that it was built around. That is one of the main reasons why I choose to come to Kunyu Mountain Traditional Shaolin Martial Arts Academy for a year. Secondly I was always interested in the differences in cultures between my country (Egypt) and China, and the only way to fully appreciate that is to come to China and experience it for yourself.
There is so much to gain from here from a physical, mental, and spiritual aspect. From my experience here some of my greatest gains would definitely be self-confidence, learning how there are truly no limits to what I can do physically or mentally, getting in the best shape I've been in my life, understanding my body, how to become a true leader and be able to push myself and others to our limits, and the list can keep going.
Kunyu Mountain Traditional Shaolin Martial Arts Academy is one of those places where you get to meet so many different people from around the world and that itself is one of their greatest assets, the diversity of people. The working staff as well are extremely hard working and really do try to make your stay as comfortable as they can. Starting with the translators that are always trying their hardest, the kitchen staff that make delicious food for us every day of the week, the janitors that keep everything nice and clean, and finally the Masters and coaches that really do put all their efforts into teaching us the highest quality of Kung Fu and mentoring us to become the best we can as martial artist and as human beings. I would specially like to mention that some of the people that really influenced and helped me throughout my stay are:
1.Master Meng who has been my shifu, he has really taught me a great deal, the amount of knowledge and experience I have gained from this man is astonishing and there are no word that can express my gratitude towards him for having the patience to put every bit of effort to teach and mentor me and everyone in my group. He is truly a person I would aspire to be like.
2.Coach Loc Truly an inspirational person with a vast amount of knowledge and is always willing to share it. He is an amazing martial artist and is always there to help.
3.Susan and Maggie these two translators are extremely hard working, always around to help with whatever you need whether it's translating or any other issues you might encounter during your stay. Needless to say they are very friendly and approachable which makes everything easier for people who tend to be shy.
Kunyu Mountain Traditional Shaolin Martial Arts Academy is a very special place that gives you access to a vast amount of knowledge and experiences. My main reasons for coming here was to experience traditional Kung Fu in its place of birth, and figure out what I truly want to do in my life. I graduated from university a few months before coming here and I needed time to explore my options in life without the stress that comes with living in a city. The atmosphere and surrounding environment available in Kunyushan was exactly what I needed. Waking up early in the morning for Tai Ji and Qi gong, then having breakfast in the dining hall with everyone. Training from 8:30 to 11:30 and enjoying a well-deserved lunch at 12:00, the afternoon runs at 2:30 or 3:00 (depending on the season) to the foot of the mountain and the afternoon training that follows, and finally the optional classes in the evening that are followed by dinner help create the perfect schedule to keep you busy all day and in bed earlier then you would imagine. The campus is full equipped with everything you will need for training, some of the equipment might be a bit dated but that shouldn't stop you. Getting used to the daily schedule might be a little hard to adjust to in the beginning but that depends on whether you've had prior experience in following a hardcore training regimen or not, either way the Masters will be considerate with how hard they push you in the beginning depending on your physical state. Training under a Chinese master is definitely a unique experience just based on their work ethic and how they have been trained, they are very demanding and strict, which many people might not realize but that is exactly what you might need to get proper training and find your max potential. The language barrier though can sometimes feel like an issue in the beginning but that never stopped me from creating a unique relationship with my Shifu. Needless to say the translator are always around trying their hardest to make sure that everything is understand there for taking care of the language barrier issue. They are always around from 6:00 am to 6:00 pm, sometimes even later and are always willing to help with anything I or any of the other students needed.
The academy is surrounded by farm land, which means a vast array of fresh fruit is offered at the super market nearby which is something I really enjoyed. China is generally notorious for its pollution, but thankfully it is very minimal around here,and the air is general fresh and clean. The area is known for its mountain ranges that surround the academy; it is very beautiful around here. Just waking up in the morning to the sun peaking over the mountains is something everyone should take advantage of observing during their stay. There are a few lakes around as well which you can go swim in during the summers or just go relax to the sound of water flowing in the background while enjoying the mesmerizing landscape. Muping is the nearest town to the academy, around a 40 minute bus ride. There you can find almost anything thing you might need in terms of essentials that you possibly won't find in the super markets around the academy. Besides that you can go there to enjoy a massage at one of the many massage parlors located all around the town or just explore and experience China for what it is. Yantai is one of the nearest cities to the academy, most students go there over the weekend to chill out and get a change of atmosphere if you're ever feel like it. There are a number of things to do there from going to the beach for a relaxed day, to going to the malls for shopping or even enjoying some western food if you ever start missing it.
Email:

Ramy.m.kandil@live.com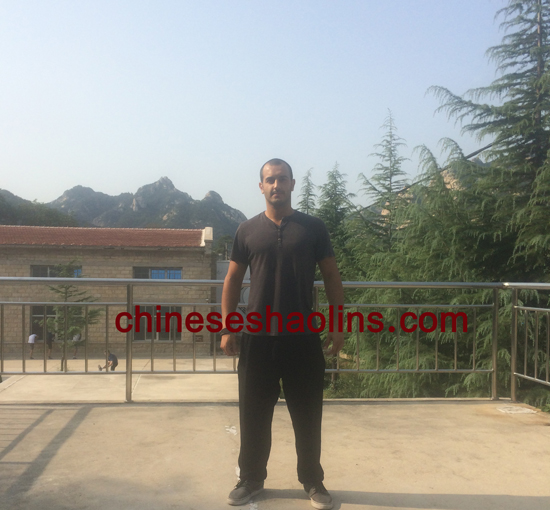 Ramy trained here for nine month at Kunyu mountain.