Six month training from June 2013 to April 2014
Returning students,Clement learnt for one year in 2012,and returned for another six months.
Clement (French)
The training in Kunyu mountain Kungfu school is good whatever your level in martial arts. All the masters are very skilled and all have their own way of training. Once again, I want to thank master Gao and master Guo for training my this winter. I learned a lot from them.
The translators do their best to help us communicate with the masters and help us in our daily life.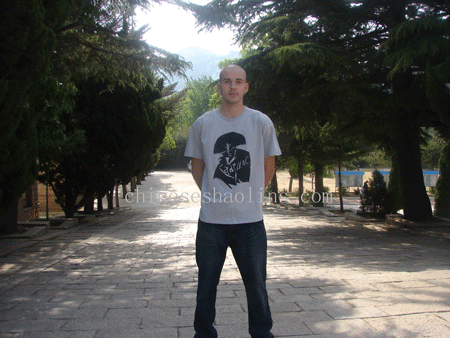 Four weeks from March to April 2014.

Roger Witter (Switzerland )

I chose China because of the old history and traditional art.My motivation of study kungfu was to try something new in a foreign country and to free my mind.
The greatest gain for me in training martial arts was to see or find my personal border, and the fact, that it is possible to train on this point. I met a lot of great people and made some good friends. We helped each other during our period of time at the academy. it was great. I cannot tell a lot of the rooms at the academy, because I spent the whole time at the hotel close by. The hotel was nice and cheap. That gave me a lot of privacy.The training herewas hard but good. I liked to push myself. But with the age of 48 you can tell that the body is not that powerful like it used to be. But I improved a lot during the time. My master was a very friendly guy and helped me lot. I liked him very much. I just can remember him. The translators were very helpful during the training sessions, but also when I had some personal problems.
The Kunyu mountain academy is located in a very nice area, surrounded y mountains. It is very beautiful. I would love to see this place in summertime. Especially when you can have a swimming at the closed lake. The air was fresh and clean, you could smell the mountain air.
The summary: I had a great time!
Email: ningaloo@gmx.ch