Saray (Spanish) Learning for One year and seven months from end of 2013 to July 2015
Studying kung fu in China has been a dream since I was a child so this is truly a dream come true. I have had an amazing experience here and have made my dream come true, thanks of students but mainly my two wing chun masters.
My greatest gain from this year and a half is all the lessons I've learnt from people with such different backgrounds and of course from shifus; this is, to be humble and deal properly with "ego" problems (either my own or others), to gain self-confidence and to be find much more about myself, my fears and weaknesses, and also strengths.
The person who is influenced and helped me the most is my two wing chun masters. Without them my experience would have been totally different. He has shown me not only the beauty of Wingchun and Baji, but also his beauty as human being. I couldn't have dreamed of a better master and will always keep his teachings, kindness and warm heart within me.
Definitely someone I will admire and respect always, and feel grateful for.
Training is amazing and very enjoyable. The surroundings of the academy are great.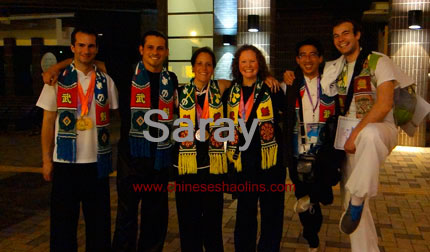 She took part in Hongkong kung fu competition and got good records.
I've met great human beings and learnt a lot about myself and others, and for all that I feel grateful.
One month course from May to June
I choose China to learn Kung Fu because it is the birthplace of this sport. I always wanted to experience Kung Fu with the real Kung Fu people. In Kunyu Mountain, I found what I had been looking for. Training is really motivating. I learned a lot. The environment and the surroundings are breathtaking. The masters are professional and they know exactly how to let you make it.
The translators are very helpful. And available whenever you need them. It has been only a month but I feel that I have gained a lot and I have seen a lot. I would really like to come back to stay for a very long period.
Email : bassil3_khaled@hotmail.com