Returning student from Korea:
Yu Jung Jennifer Yoo learn for three months from 2012 Jan,and she returned for another five months kung fu learning from 2012 Oct to 2013 March in Kunyu mountain shaolin kung fu school.

Yu Jung Jennifer Yoon (Korea)(with her brother to learn together)
I always wateched chinese martial Arts movies with my family since I was very young and I was very interested to trying the chinese martial arts ,my own.I learned now to live in community of school,because I never lived without my parents and I think it is very good experience for me.And I never tried activities like martial arts, so I think it make my mind healthy and focus,so I chose to come in Kunyu mountain kung fu academy to learn shaolin martial arts.
Most probably it would be all the masters and translators to help me a lot.And other many friends. They talked to me I talked to them so we communicated. But , I would say my master helped me much more.I like to wake up in the morning and do hard kung fu trainings everyday. And all the masters are so supportive.. And all the translators are very kind and I really like them. And I really love kunyu mountain academy for make me do hard works and make me independent.
I love the natures around the Academy in Kunyu mountain.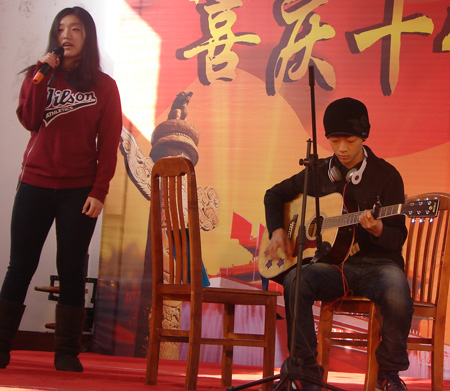 In mid of November 2012,Yu June take part in Art Performances Show to play guita and sing to celebrate the 18th Communist Party of Chinese National Congress.
---
Review from her Brother -Jackie Yoon (Korea)
I chose here because Kungfu is originally from China. Since very young age,when I was 6 years old I watched a lot of Chinese movies about Chinese Kungfu because of my father, who is an actor in Korea and also does martial arts. Watching those movies made me want to learn martial arts.
My experience at China kunyu mountain shaolin kung fu academy is great.
I have gained a lot, my health, better cardio, flexibility, more muscles, and I have met good friends and also known manners of martial artist and so on. I learned how to go through the pain…especially from power training and power stretching on each Wednesday and mountain climbing. Oh, my English gets better than before I think.
There are a lot of people who helped me but especially Jakob, who had helped me since my first day here. Good guy Jeff, a bit rough but I know he didn't mean it…haha. Alexi, I don't know if I spelled his name right…Also Aaron, Adam, Orlando, Sebastian, Pablo, Tommy. And of course my masters.
Things are very different from Korea. In Korea I used to train 1~2 hours a day and I barely did stretching but here we train more than 5 hours a day and we do stretching a lot and run a lot. It's hard and tired but I like it. At first I thought masters were very hard but it turned out that they are really nice and tried to understand us foreigners, so do translators, who always try their best to translate for us even if they are tired.
I like the mountains here. The view is really good and air is fresh…it's very…nature. I don't know exact word to express it but I think you would understand haha. Because I only lived in the city from young age…
You are welcome, thank you! All the masters and translators, it's been a pleasure to learn Kungfu here. Especially thanks to my master. Thank you for teaching me not only Kungfu but every other thing!
P.S. I will come back here when I get famous as an actor.
Email: dbsrudgh23@naver.com