One year and four months course till May 2018
China and Chinese culture is famous for its kungfu, so it made sense to go to China to learn it. I wanted the most authentic experience and that's what I got in Kunyu.
When I came to kunyu I hated to run. Now I'm leading my group during and encouraging others to run faster and harder. I Was never a big fan of training by myself and I never had the discipline for it, but in kunyu I discovered a motivation to train even more. even if I trained 4,5 hours a day I would go and train for a coupe of hours in the evening. So my greatest gain from kunyu is a new mindset and a better view on training.
The other students in Kunyu influenced me a lot. there is many dedicated and talented people in kunyu and every one supports and motivates you. My master has also been a huge influence on me. My master Is stricter than the other shifu's but that is also why his group trains harder during class. most of his group also train during their free time so they can show master their progress. Meng shifu has a talent for making people dedicated to their training. Sun shifu is very good at teaching his students, he adjusts his teaching so every student learns the way they find the easiest. He is a very patient shifu and takes a lot of care of his students and I'm very proud to have been a member of his group the first 6 months of my stay. Gao shifu is very passionate about sanda and has a good sense of humor and that reflects into his teaching. He is very flexible with his training and it never gets boring.
My experience in kunyu has been incredible, I have learned so much from my masters and from my fellow students. The training is hard and challenging even if you have been here for a year or longer. The daily life is simple, just show up for training and don't spend to much money on icecream and you will be fine. Life in kunyu is simple and good. The masters are very good at teaching and you can see that they really enjoy what they are doing. The translators are very nice and helpful, they joke around with the students and make sure there is a good relationship between the masters and the students.
The surrounding are absolutely beautiful, the mountains are pretty, the lakes are refreshing, the air is pretty clear.
Kunyu is an experience I will never forget.
Email:

lauritsmunck@yahoo.com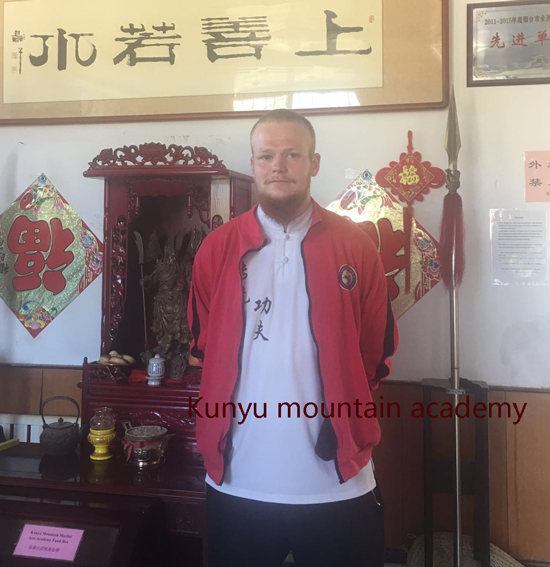 Three month course till June 2018
Nair Betencourth Chantre (Holland)
Firstly,Thank you for everything.I wanted to learn kung fu at it's birthing place, the country where it originated. I also wanted to get more familiar with Chinese culture and tradition.
I gained a passion for martial arts. I learned patience and the importance of good basics, paying attention to details and being present and aware while doing the forms and movements.My master, other students and coach Loc helped me a lot.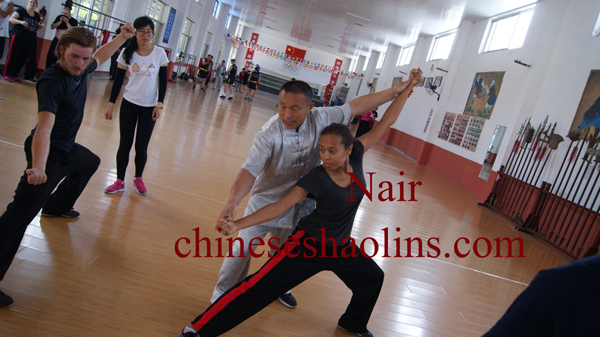 I liked my time at the academy. Interaction with translators and masters was fine. I would have liked it if Taoism class was at a time that I could attend without missing training classes. The surroundings are great. The mountains are beautiful, Muping and Yantai are nice.
Email:

nairchantre@hotmail.com

Mark Scrivens (UK) One month course in May 2018
I chose to study in China because it is the birthplace of Kungfu, therefore, the instruction is likely to be of a more pure form than that found abroad.
My greatest gain has been the increase in motivation to improve in all aspects of life. The training has highlighted the need to balance the forces in life.Master Meng's instruction most influenced my practice to improve. However, the members of my class also provided me with valuable support and encouragement during my stay and became equally as important.
The academy provided an excellent environment to learn both martial arts and about oneself. The Tai Chi and Qi Gong classes were an excellent start to each day and have encouraged me to seek further instruction when I return to Wales.The group was so supportive that I chose to stay for the entire month.
My Master provided very balanced, excellent instruction throughout and only muscular injury prevented me from progressing further. Endurance training was coupled with attention to forms which provided a solid foundation for the application of the style through Sanda.
The translators assisted our studies with clear instructions and also helped to further my knowledge of Mandarin through the daily lessons.The food was good and allowed me to study with a good level of energy each day, although a wider variety of fruit would have improved it further.
The location of the academy is incredibly beautiful and I looked forward to each time that I went into the mountains on Fridays. Our master also took us to the stream to practice Qi Gong and conditioning on two occasions. I will hold those memories very dearly.
I have always tried to avoid cities, as a mountaineer, and I am glad that the academy is incredibly such a beautiful place.
I have thoroughly enjoyed staying at the academy and hope that I can return to study with my two young sons. In the meantime I shall miss all the friends that I have met here.
Email :

scrivo69@hotmail.co.uk